"Poker Mentality?!"

April 21, 2014
I learned how to play poker at a very young age. My father taught me the concept of playing the percentage hands. You don't just play every hand and stay through every card, because if you do, you will have a much higher probability of losing. You should play the good hands, and drop out of the poor hands, forfeiting the ante. When more of the cards are on the table and you have a very strong hand - in other words, when you feel the percentages are skewed in your favor - you raise and play that hand to the hilt. If you apply the same principles of poker strategy to trading, it increases your odds of winning significantly. I have always tried to keep the concept of patience in mind by waiting for the right trade, just like you wait for the percentage hand in poker. If a trade doesn't look right, you get out and take a small loss; it's precisely equivalent to forfeiting the ante by dropping out of a poor hand in poker. On the other hand, when the percentages seem to be strongly in your favor, you should be aggressive and really try to leverage the trade similar to the way you raise on the good hands in poker.

... "Market Wizards" by Jack D. Schwager, explaining Gary Bielfeldt's analogy between trading and poker.
I have often stated that the rarest trait on Wall Street is "patience." I have also repeatedly reprised Charles Dow's quote that, "The successful investor/speculator needs to ignore two out of every three potential money making opportunities." Sometimes these old stock market axioms have hurt me, but more often they have saved me a lot of money. Indeed, "Waiting for the right pitch," as Warren Buffet terms it, is the key to successful investing and trading. Plainly, for much of this year I have tried to wait for the "right pitch." Last Wednesday that strategy caused me to get accused of, "Not telling us what to do" by one of Raymond James' complex managers. I replied, "That is blatantly not true for the past few years I have been adamant we are in a secular bull market!" Moreover, during January I was pretty verbose about raising some cash. As I recall, the operative phrase was, "If you have certain stocks in your portfolio that have not performed in the 40%+ rally from June 2012, you might consider selling them to raise some cash for what historically calls for a 5% - 7% pullback in the first three months of this year, and potentially a 10% - 12% decline sometime in 2014." Subsequently, we got a 6.2% decline into the first week of February, and when it looked like the market was not going to fall into a full-fledged 10% - 12% affair, I recommended putting some of that cash back to work.
The past two weeks I opined I did not know if this was the start of the historically based 10% - 12% decline, but with last Wednesday's intraday upside reversal I wrote this for Thursday's Morning Tack. The Tack began with this quote:
"In an uptrend, if a higher high is made but fails to carry through, and prices dip below the previous high, the trend is apt to reverse. The converse is true for downtrends."
... Victor Sperandeo (Trader Vic, Methods of a Wall Street Master)
It went on to read:
I have heard Victor Sperandeo's name ever since I entered this business in 1971. In fact, it is legendary hedge fund manager Paul Tudor Jones who said, "Victor Sperandeo is gifted with one of the finest minds I know. No wonder he's compiled such an amazing record of success as a money manager. Every investor can benefit from the wisdom." So when I was looking at the S&P 500's (SPX/1864.85) recent pricing action, I recalled the aforementioned quote. The last sentence particularly came to mind – the converse is true for downtrends – because that looks like what we have just experienced. To wit, reverse the word 'uptrend' for 'downtrend,' as well as 'low' for 'high' etc. in that quote and this is the phrase you get: in a downtrend, if a lower low is made but fails to carry through, and prices pop above the previous low, the downtrend is apt to reverse. Now study the nearby chart. The SPX has been in a downtrend since its intraday high of ~1897 on 4-4-14. Then on 4-10-14 it fell through its previous "lows" in the 1835 – 1840 support zone and made a lower low of ~1814, but failed to carry through on the downside. Then the SPX popped above those previous 'lows' of 1835 – 1840, which is why I wrote in yesterday's Morning Tack, "In this business price is reality, and with the S&P 500's close above 1840, I am recommitting some capital here; but I will feel a lot better if the SPX can clear 1860." Well, from my lips to God's ears because that is exactly what happened yesterday (last Wednesday) with the SPX close at 1862.31.
With the holiday-shortened week, Thursday was the last trading session before Good Friday, but the equity markets were already on holiday as they limped through the session, leaving the SPX better by a mere 2.54 points and within 1.6% of its all-time high. Interestingly, the strength of SPX is masking the internal correction that has been occurring. For example, the average stock in the S&P 1500 is off 12.5% from its high, while the average small-cap is down roughly 16%. The small-cap weakness was reflected in the Russell 2000 (RUT/$1137.89) that tagged its 200-day moving average at 1108.19 last week. It was the first time in 17 months the RUT has done that and such an event is worth noting. Worth noting because there have been 11 times when the RUT closed below its 200-DMA after spending about seven months above that moving average and such a breakdown has almost always led to lower prices. For me, however, the real event of the week came from the bond market.
Indeed, interest rates went up last week with the yield on the 10-year and 30-year Treasuries rising about 12 basis points, leaving the 10-year's yield above its 50-DMA and very close to traveling above its 200-DMA at 2.726%. The rate ratchet was likely induced by the strengthening economic data with reports such as retail sales coming in at a stronger than expected +1.1%, with the previous month revised upward, bring sales growth to + 3.8% YTD. That should help lift GDP growth. Also hinting at stronger growth were March's +0.4 of a percentage point capacity utilization (to 79.2%), as well as the +0.7 of a point rise in industrial production; and don't look now, but the Citi Economic Surprise Index is moving sharply higher. All of this suggests that as the weather thaws, the consumer is starting to spend. The question then becomes, "How much of this is already priced into the stock market?" But, that is a question for the weeks ahead.
The call for this week: In terms of an update, the two bond funds I have recommended (and both of which I own) for the higher interest rate environment I envision have been the Putnam Diversified Income Trust (PDINX/$7.98) despite its $0.005 reduction in the monthly dividend of $0.032. The other bond fund is the Lord Abbett Bond Debenture Fund run by my friend Chris Towel (LBNDX/$8.27). And following our Institutional Investors Conference, on March 10 I highlighted our fundamental analyst's recommendation on Goodrich Petroleum (GDP/$24.36/Outperform), and consequently its convertible preferred (GDPAN/$48.30). Despite last week's 32% leap in the common stock, said shares continue to look higher based on the story laid out in our company comment released last Monday. Speaking to the overall stock market, if this is a counter trend move, followed by another leg to the downside, the current overbought conditions are capable of turning things lower. Yet, if the market can "hang in there" until mid-week, especially if it can make a higher high, this should be a confirmation that this is not the start of the 10% - 12% pullback slated for some time this year.
---
"The Wile E. Coyote Stock Market?"

April 14, 2014
Last Wednesday, when the D-J Industrials were up some 180 points, I could not shake the feeling that this was the "Wile E. Coyote stock market." The visual is when Wile runs off a cliff, but his feet keep moving, until he looks down and realizes there is nothing underneath him. The resulting fall was similar to what happened late last week to the equity markets. Indeed, I really did not understand, or trust, last Wednesday's Dow Wow for the reasons mentioned in these missives. As well, my writings all this year have noted that a 40+% rally, like we have experienced since June of 2012 without so much as a 10% decline, has historically been followed by a 5%-7% pullback in the first three months of the new year, with a 10% - 12% decline due sometime during the year. That view was reinforced by the recent rotation out of last year's high fliers, which historically has preceded further selling in the overall stock market. Also, the "high flier" selling took the NASDAQ Composite (COMPQ/3999.73) below its 100-day moving average (DMA) a week ago for the first time in over a year. That telegraphed continued selling, not only in the "fliers," but the overall stock market. Additionally, I have written the S&P 500 (SPX/1815.69) has "bonked" three times into the 1835 -1840 support zone and was likely destined to fail in a fourth test of that level. And, almost on scrip, the SPX knifed through that support zone late last week, bringing into view the next support level of 1780 – 1800. Interestingly, the reasons for that breakdown were given by a number of portfolio managers, and by numerous media anchors, I spoke to in New York City last week.
One of the first reasons given was the Ukraine situation. To wit, last week's comments by NATO's chief that troops may be moved into Eastern Europe caused Putin to worry the Kiev government would use that show of strength to announce an alliance with the West and potentially petition to join the European Union. If so, it was feared Putin would supersede said troop movement and annex the rest of the Ukraine. In fact, Friday's Wall Street Journal carried a story titled, "NATO Says Russia Is Ready to Strike." Next on the downside "hit parade" was the announcement of the Supplementary Loan Ratio (SLR), which raised fears the big banks would not be able to meet the SLR's mandate, but as our analyst writes:
"U.S. regulators approved a finalized supplementary leverage ratio (SLR) for the nation's eight largest financial institutions. This was not a big surprise, as U.S. banking regulators chose to adopt Basel's treatment for the denominator of the SLR, while sticking to the 5% bank holding company and 6% subsidiary minimum required levels proposed last July. There were some changes in adopting the global standards for the denominator, but we believe all the banks in our coverage universe can easily get there well in advance of the January 1, 2018 deadline. Companies will be required to disclose their estimated SLR under the new rule starting on January 1, 2015. Regulators said including the revised rule, the estimated capital shortfall at the eight banks was $68 billion, which represented less than 10% of the outstanding tangible common equity at the affected institutions as of December 31, 2013. Banks should be able to exceed the proposed minimums without any capital raises."
However, JP Morgan's (JPM/$55.30/Strong Buy) shortfall on Friday did not help confidence about the statement, "Banks should be able to exceed the proposed minimums without any capital raises." Then there was the slowing economic news from China, where exports and imports fell unexpectedly in March. Exports dropped 6.6% on a same month basis, following an eye-popping 18% decline in February on a year-over-year basis. Meanwhile, imports slid 11.3%. Parsing the numbers showed China's internal and external demand is indeed slowing. Adding to Wall Street concerns about a slowdown was this statement from China's Premier Li Keqiang, "We will not resort to short-term strong stimulus policies just because of temporary fluctuations." Obviously Wall Street read that as no short-term help for the world's second largest economy.
So those were the major boogeymen served up as the causa proxima for last week's wilt, but for whatever the reason, the SPX finally fell through its 1835 – 1840 support zone. This is not an unimportant event for that level had supported stocks on numerous occasions. That's why I wrote in last Thursday's Morning Tack, "However, if the SPX declines a fourth time into its 1835 – 1840 support, it would be worrisome, at least to me. Worrisome because of the old stock market saw, 'Triple bottoms typically do not hold'!" And notice how much the selling intensity increased when it became apparent the 1835 – 1840 level was going to fail to hold, bringing into view the next support zone of 1780 – 1800. Failing that would imply a test of the January/February "lows" at the 1740 – 1750 level. Whether this is the 10% - 12% correction I have cautioned would be due sometime this year based on historical precedent is unknowable at this point; but if it is, it would target the 1702 (10%) to 1664 (12%) zone. While I believe such a move is unknowable quite yet, the always eagle-eyed Jason Goepfert notes:
"There have only been two other times in the past 20 years that the Nasdaq Composite had dropped more than -8% from its 52-week high, but the VIX "fear gauge" was still below 17.5, a scenario we have now. It shows relative complacency in the face of a sell-off in higher-beta stocks. Those two occurrences were March 28, 2002 and May 15, 2008. The S&P 500 sold off more than -15% over the next three months both times."
The call for this week: Last week I was in NYC seeing institutional accounts and doing media appearances. It was great to catch up with a number of my friends at CNBC, Bloomberg, Fox, Yahoo Finance, Arise TV, NYT, etc., but I think the highlight of the week was speaking on a panel for the Tiburon CEO Summit at the Ritz Carlton. On the panel was my friend Rich Bernstein, along with Ron Baron, Derek Young, and me. I began my opening remarks by stating, "I have thought a lot about what is the most important thing I can convey to this august group of 270 CEOs from the financial industry. I think it is that we are in a secular bull market, which has years left to run. The problem is many of the folks in this business have never seen a secular bull market. Their shared experience over the past 15 years has been to buy a stock, and when it rallies 30%, to sell it and look to find another stock to do the same thing. They have not experienced buying high-quality, blue chip/dividend-paying stocks, and holding them through a secular bull market like 1982 – 2000. Manifestly, in such a secular 'bull' the art of just 'sitting,' without a whole lot of activity, is one of the secrets of compounding wealth. To be sure, there will be pullbacks, so raising cash and repositioning portfolios along the way makes sense, but you should not go into a big cash position." Following our panel, I was in the lobby of the Ritz when Ron Baron, eponymous captain of Baron Capital, asked me if I would like a ride back to mid-town. Since it was raining, that ride lasted an hour and a half during which we discussed a number of stocks. In fact, I have a number of new names to research this week. As for the stock market, in the near term the McClellan Oscillator is very oversold (chart 1), as well the SPX is at the low end of its 1-year trading range (see chart 2). The blue zone represents one standard deviation above/below the SPX's 50-day moving average. But in January/February of this year, the SPX traded into the deeply oversold green zone, which marked the yearly "lows" in the aforementioned 1740 – 1750 area. Accordingly, it would not surprise me to see a rally attempt. However, with very little internal energy, I don't think any rally is sustainable in the short term. Moreover, we could be in one of these 17 – 25 session "selling stampedes" with today being day number 7.
---
"The Russians Are Coming"

April 7, 2014
The Russians Are Coming, The Russians Are Coming is a 1966 American comedy film directed by Norman Jewison and based on Nathaniel Benchley's book The Off-Islanders. The movie tells the Cold War story of the comedic chaos that happens when a Soviet submarine runs aground closely offshore a small island town near New England and the crew is forced to come ashore. At the time I saw the movie I was summering at my family's home on Nantucket Island, which really brought home the ambiance of the movie since the landscape looked remarkably similar to places on Nantucket. Last Friday, however, rumors that the "Russians are coming" swirled down the canyons of Wall Street, causing a late Friday Fade that left the S&P 500 (SPX/1865.09) down an eye-popping 24 points. The rumors went something like this. Vladimir Putin is going to invade the rest of the Ukraine over the weekend because of what is getting ready to happen. According to The Wall Street Journal, "NATO foreign ministers this week directed Gen. Breedlove to craft a response plan, which could include moving NATO equipment and troops into Eastern Europe, beefing up exercises, surveillance and patrols, and speeding up NATO's rapid-response force." Putin's worry is that when those troops are moved into such a tactical position, Ukraine's remaining government will use that opportunity to announce a coalition with the west and potentially petition for membership in the European Union. Whether those rumors turn out to be true remains to be seen, but that is what whacked stocks late Friday afternoon and very few pundits even picked up on it. What was interesting to me is that once my 1872 S&P 500 short-term "failsafe" point was violated to the downside, the selling intensified. This is not an insignificant point because, as repeatedly stated last week, "There is a full charge of internal energy built up in my indicators suggesting if a stock market move begins, it has enough energy to turn into a meaningful move." I had thought said energy would likely be released on the upside with a peek-a-boo "look" above 1900, but last Friday's action calls that into question unless "John Wayne" again rides to the rescue.
For weeks I have said that something just does not feel right about this market, but every time I made that statement John Wayne has indeed ridden to the rescue to buoy stocks. This occurred at the March 14th low, and again at the March 27th low, both of which stabilized stocks around the SPX's 30-day moving average (DMA). Interestingly, at last Friday's close the SPX was resting marginally above the 30-DMA once again, which now resides at 1863.86. Therefore, the first part of this week shapes up as a pretty important timeframe. If the SPX holds above its 30-DMA, then the rally could resume. If it doesn't, the often mentioned 1835 – 1840 zone support level again comes into play, which has held three times since the beginning of March, and failing that the 1780 – 1800 level becomes the target zone. Longer term, I continue to believe a secular bull market is afoot that has years left to run.
To that point, in Friday's Morning Tack I wrote the following:
Nevertheless, a lot of folks believe the stock market has come too far, too fast, and the upside is currently limited. To that point, JP Morgan's strategist, Dr. David Kelly, hosted a conference call yesterday to allay such fears. The call began with him explaining the economic expansion will be five years old this June. However, he thinks we are into a long, but slow, expansion that has years left to run. Moreover, he stated we are not close to any of the excesses that lead to a recession. While he said the upcoming GDP figures will likely be soft, March figures will show the softness is weather induced. He emphasized while stocks are not as cheap as they were in 2009/2010 (see chart 1), they are still not expensive when compared to cash/bonds. If he had to own bonds, which are in a bear market, he would consider emerging market debt. With $1.9 trillion on the sideline, Dr. Kelley opined there is plenty of "dry powder" to move stocks higher. The JP Morgan mutual fund that was mentioned to take advantage of Dr. Kelly's views was JVASX. There were numerous other positive points he made, but I am out of space and will try to highlight them in next Monday's longer strategy report.
Well, it's "next Monday," and I will attempt to make good on that promise. Dr. Kelly said that he thinks the Fed is "over cooking" the economy by staying too easy for too long. The result should be a pickup in inflation and higher interest rates. He noted we have almost recaptured all the jobs lost in the downturn, implying an increase in capital expenditures (capex) and an increase in wage pressures (read: inflation). Of interest is that monetary policy leads, while the effects of inflation and employment lag. Europe, he noted, has declining headwinds and is therefore attractive. On emerging markets (EM), they remain "cheap" and are set up for outsized growth over the next three to five years. In our Gleanings report this month, as well as the Investment Strategy Quarterly, we outline the case for EM, and suggest a scaled "in" buying approach. To wit, if you have a $100,000 asset allocation for EM we think you should break that into four $25,000 tranches and buy the first tranche today. Then wait two to three months and buy the second tranche and so forth until the $100,000 allocation is complete. Dr. Kelly opined over the long-term the bullish case for EM rests on: 1) the need for capital growth; 2) labor force growth; and, 3) total factor productivity. He made a strong case for EM, and after strongly recommending EM in 2001 when China joined the World Trade Organization (WTO), we stepped off that theme two years ago for various reasons. Now we agree with Dr. Kelly. As a sidebar, one of the mutual funds mentioned as a way to participate in Dr. Kelly's themes was the JP Morgan Value Advantage Fund (JVASX/$28.09). The charts to support all of Dr. Kelly's points may be found at their website (https://www.jpmorganfunds.com) using the search engine's key word "Guide to the Markets."
As for the stock market, since the beginning of the year I have written that following a 40%+ rally like we have experienced from the June 2012 low, without any meaningful correction (10% or more), the median historical drawdown is between 5% and 7% over the next three months and between 10% and 12% sometime over the next 12 months. But, such a drawdown/pullback should be viewed within the context of a secular bull market. Well, we had a 6.2% pullback between the intraday high of 1/21/14 and the intraday low of 2/5/14. That means sometime in the next eight months we should see a 10% to 12% pullback, if past is prelude. Whether Friday was the start of such a pullback is unknowable at this point. I will note that Friday was what a technical analyst would term an outside bearish reversal day. Recall that such a day occurs when a price chart pattern of a security's high and low prices for the day exceeds those of the previous trading session. The outside reversal pattern is called by candlestick chartists a "bearish engulfing" pattern if the second bar is a down candlestick; and, that's exactly what we got last Friday (see chart). Also of interest is that the NASDAQ Composite (COMPQ/4127.73), which has bounced repeatedly off of its 100-DMA for nearly a year, fell below that moving average on Friday. Other worries include that for nearly a year "Payroll Friday" has seen the SPX rally no matter what the condition of the market, the rotation out of the high flyers into more value type stocks, the fact that the selling of high flyers typically precedes more selling in the overall stock market, that historically markets decline during the second and third quarters of a mid-term election year, and the list goes on. That said, I continue to believe any decline should be viewed within the construct of a secular bull market.
The call for this week: I am in NYC seeing accounts and doing media, and if past is prelude something BIG will occur in the stock market in my absence. As stated, there is a full charge of energy in my proprietary indicators, so if a move starts, in either direction, it has enough energy to become meaningful. This morning, the Russian Rumors, which swamped stocks on Friday, indeed proved fallacious. Nevertheless, the preopening futures are down about 6 points (at 5:00 a.m.), begging the question, "Are we going to get another immediate upside reversal like we have seen every other time it looked like stocks were geared for the downside?" Still, as can be seen in chart 2, Sotheby's has tended to "call" bubbles in the past. If that holds, we are NOT currently in a bubble.
---
Additional information is available on request. This document may not be reprinted without permission.
Raymond James & Associates may make a market in stocks mentioned in this report and may have managed/co-managed a public/follow-on offering of these shares or otherwise provided investment banking services to companies mentioned in this report in the past three years.
RJ&A or its officers, employees, or affiliates may 1) currently own shares, options, rights or warrants and/or 2) execute transactions in the securities mentioned in this report that may or may not be consistent with this report's conclusions.
The opinions offered by Mr. Saut should be considered a part of your overall decision-making process. For more information about this report – to discuss how this outlook may affect your personal situation and/or to learn how this insight may be incorporated into your investment strategy – please contact your Raymond James Financial Advisor.
International securities involve additional risks such as currency fluctuations, differing financial accounting standards, and possible political and economic instability. These risks are greater in emerging markets.
Investors should consider the investment objectives, risks, and charges and expenses of mutual funds carefully before investing. The prospectus contains this and other information about mutual funds. The prospectus is available from your financial advisor and should be read carefully before investing.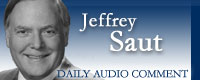 Jeff Saut's Daily Audio Comment is recorded every weekday, except Wednesday, at 9 a.m. ET. It is made available to the public on this Web page at approximately 1 p.m. ET.