How High is High? (To Whom?)

July 21, 2014
I have a number of friends who succeeded as investors in the late 1960s, and they are succeeding now. The key to their success more than 20 years ago was that they managed to get out with most of their capital when the market turned down. Most investors were not so astute.

The name of the game most investors play is momentum and relative strength: Buy the strongest stocks and sell them after they have topped. Occasionally I will ask one of my friends, "How can a rational person pay 60 times earnings and 10 times book value for a growth company with dubious long-term prospects?" The reply: "How high is high? If a stock can sell at 60 times earnings, it can sell at 80 times or 100 times. I don't prejudge anything. I don't look at so called values, I look at price action. If they are going up, I buy them. And if they turn down, I sell them."

It sounds simple and it is. The only difficulty is that the game has caught on and is being played by an unwieldy number of individuals and institutions. An individual with a few thousand shares in each crazily valued position can get out, but an institution with hundreds of thousands of shares in each position will not be so fortunate. As fast as stock markets go up, they always go down faster. And despite the many trading innovations that have recently been developed, it nevertheless remains difficult to push the proverbial elephant through a keyhole when everyone wants to sell and there aren't any buyers.

… Frederick E. "Shad" Rowe, Forbes magazine (September 2, 1991)
I recalled those words from my friend Shad Rowe, who is the eagled-eyed captain of the Dallas-based money management firm Greenbrier Partners, as I listened to Janet Yellen's testimony last week. Ms. Yellen was opining that the action in social media and biotech stocks is reminiscent of what Shad was warning about in Forbes magazine 23 years ago. I think his comments, from an era gone by, are just as valid today as they were 23 years ago. In fact, they remind me of a story I heard years ago when I first came into the Wall Street world in 1971.
The story was about a customer who called his broker with a hot stock tip. The customer proceeded to buy several thousand shares of the low-priced "stock tip" and saw it move up. The broker explained that the market was thin and that orders in this stock were hard to execute. Still the customer persisted, ordering his broker to buy more and more stock, even as the price rose. Pleased that the stock was acting so well, the customer went long with the last of his money, completing all of his buy orders; though with some difficulty because his bidding pushed the stock price even higher. Several days later the stock drifted down on light volume, below the customer's last large purchase and threatened to break below his average cost. In a panic, the customer called up and commanded his broker to, "Sell!" "To whom?" the broker asked. "Your buying has been the main factor in pushing the stock higher. There are not enough bids to get you out without breaking the stock substantially below your very first purchase!" So, maybe the better title for our above quote is not "How High is High?" but "To Whom?"
I have followed Shad's lead since he was a contributor to Forbes in the 1970s and 1980s. He has led his firm to outsized performance over the years. His aforementioned 1991 comments resonated with me because a few weeks ago I turned more cautious on a near-term basis following the anticipated rally from the April 15th upside reversal session into the envisioned target zone of 1950 - 1975. Indeed, since June of 2012 we have had a 40%+ rally without so much as a 10% decline. As repeatedly stated, the history of such sequences is that sometime this year we should see a 10% - 12% pullback within the context of a secular bull market that has years left to run. Further, if a stock has failed to rally in the 40%+ rally we have seen since June of 2012, there is likely something wrong. Accordingly, I have suggested raising some cash over the last three weeks. If that "call" proves wrong, we can always redeploy that cash in more favorable situations. This strategy, even if wrong-footed, is in keeping with one of my long-term mantras, "Better to lose face and save skin!" Manifestly, the over-riding theme in investing is captured in this quote from Benjamin Graham's legendary book The Intelligent Investor, "The essence of portfolio management is the management of RISKS, not the management of RETURNS. All good portfolio management begins with this premise." This is the primary tenant of "Shad's" investment philosophy, and obviously I agree.
Reinforcing my recent "pullback call" has been the weakness in the Russell 2000 (RUT/1151.61) that looks conspicuously like it has put in a double-top and broken below its 50-day moving average (DMA) at 1152.82, as well as its 200-DMA (@1140.83) on an intraday basis (see chart on next page). However, despite the media's trumpeting of those events, the history of such occurrences is pretty spotty. Year-to-date the S&P 500 (SPX/1978.22) is better by about 7%, but the Russell 2000 is down 0.72%. Such underperformance has caused some pundits to question the health of the overall stock market. However, looking at the history of when the RUT underperforms the SPX shows that more often than not following such a period of underperformance has found the SPX going higher. To be certain, the RUT is trading at about 26x its next 12 months' earnings estimates, while the SPX is trading at 16.6x, so I think all that is happening is a valuation correction in the RUT. In fact, if one looks at all the indices except the large cap ones, it shows that we have indeed fallen into a correction over the past few weeks. Of course that "foots" with the historical trends in that we are now into the 64/65 month timing points since the March 2009 low, which historically has proven to be a trouble spot to the various stock market indices.
Also counseling for near-term caution are the negative breadth divergences that have occurred this month. The first was in early July and the second happened last week. When the D-J Industrial (INDU/17100.18) makes a new high and the NYSE Advance/Decline Line doesn't, that's a negative breadth divergence (see chart on page 3). If such a condition is corrected quickly, then the all-clear is signaled. If not, it is a red flag. It has been roughly three weeks since the first divergence and now we have experienced a second divergence. We also have a negative price divergence with the large capitalization indexes acting perky while the small capitalization indices aren't. When taken in concert with the other warning cracks, I continue to think if I am going to err here, I am going to err on the side of caution.
The call for this week: I have long maintained that the initial support level for the SPX resides between 1940 and 1950. On July 10, 2014 the SPX's intraday low was 1952.86. Last week's intraday low was 1955.59. Accordingly, if those lows are violated, concurrent with a break below the 1940 - 1950 zone, the odds increase for a pullback greater than the mere 6% "hiccups"we have seen since November 2012. Meanwhile, despite all of the negative nabobs of the past few years telling us earnings were NOT going to be up to expectations, last week's kick-off of earnings season shows 64.2% of earnings reports, and 57.0% of revenue reports, have beaten expectations!
P.S. — This week I am in Nashville at Raymond James' National Conference.
---
Fireside Chats

July 14, 2014
The "Fireside Chats" were a series of thirty evening radio addresses given by President Franklin D. Roosevelt between 1933 and 1944. Although the World War I Committee on Public Information had seen presidential policy propagated to the public en masse, "fireside chats" were the first media development that facilitated intimate and direct communication between the president and the citizens of the United States. Roosevelt's cheery voice, and demeanor, played him into the favor of citizens and he soon became one of the most popular presidents ever; often affectionately compared to Abraham Lincoln. On radio, he was able to quell rumors and explain his reasons for social change slowly and comprehensibly. Radio was especially convenient for Roosevelt because it enabled him to hide his polio symptoms from the public eye.

... Wikipedia
While I was in the Pacific Northwest and Canada most of last week, I did have the privilege of listening to J.P. Morgan's (JPM/$55.80/Strong Buy) Chief Market Strategist last Monday. Dr. David Kelly has long been known for his keen insights on the equity markets, with JPM's senior portfolio managers like George Gatz and Tom Luddy steering their mutual funds, on said strategic views, to outsized gains for many years. Dr. Kelly began last week's "Fireside Chat" by noting, "There are basically six themes." First, the U.S. economy is set up for a rebound. Second, the direction of interest rates is likely higher. Third, you should be cautiously over-weighted equities. Fourth, valuations, while pretty close to historic medians, are still cheap when compared to fixed income yields given the S&P 500's (SPX/1967.57) earning's yield of more than 6% based on forward earning's estimates. Fifth, international markets are doing better on a cyclical and secular basis, and offer a lot less "cyclical drag" going forward. And sixth, as the U.S. economy moves toward full employment, the Federal Reserve is out of "running room."
Before beginning his discussion, Dr. Kelly said the most important slides in the attendant slide deck were slides 7, 8, 17, 24, 27, 31, 33, 43, 52, and 58. Speaking to his first point David stated that while the economic rebound is below historical trend, the recent -2.9% negative GDP report does not "foot" with most of the other economic reports. Speaking to point 2 (grey line page 27), though core inflation is low, and low inflation equates to low interest rates, the Fed is currently too conservative because "real" inflation is higher than the Fed thinks. Accordingly, nominal interest rates should move higher going forward. The reason they are not currently rising is because the Fed is still buying bonds and the supply is about one-third of what it was a few months ago (read: more demand than supply). That creates an artificial demand that is going to disappear this fall when the Fed's tapering maneuvers cease.
To point three, Dr. Kelly suggests being mildly overweight U.S. equities (page 8) because while valuations are pretty close to historic norms, earnings yields when compared to bond yields are tilted largely in favor of stocks, thus rendering an overweight to equities. On page 11 of the guide the charts show value stocks versus growth stocks. In a rising inflationary environment "growth stocks" tend to do better than "value stocks." However, Dr. Kelly noted that U.S. growth stocks are not as "cheap" as they have been over the past few years so investors should consider international growth stocks. Speaking to that international point, on page 43 of the guide he stated that China is doing better with PMIs up for three months in a row and that Taiwan is also improving. Moreover, Europe is doing better (page 48) as the sovereign debt crisis mitigates (page 49). He emphasized that emerging markets had improving demographics, earnings, and valuations metrics (page 52 and 53). In the U.S. he suggested profits are setting up to surge as we move into a full employment situation where unemployment should drop to 5.4%. Again he emphasized that the Fed is out of running room!
Turning to commodities (page 63), the good doctor suggested increasing portfolio weightings to "stuff" (my term of 15 years) while noting the real estate investment trust complex (REITs) does well in the economic environment he envisions in the years ahead; and, that cap rates are still very high at 6.6% (page 58). He concluded that fixed income should be in VERY short-duration bonds and that as he looks around the world he sees more economic growth on a secular basis than a cyclical basis, suggesting a large underweight to bonds. Above all, he thinks investors need to be diversified, and since "cash" has negative investment returns, investors should be invested in something else. And with that last line I find it very interesting where "The 1%" are parking their money.
Indeed, in a recent study on "The 1%" by Cap Gemini and RBC Wealth Management the survey showed that wealthy global investors are keeping an eye-popping 28% of their wealth in cash or cash equivalents. That's more than their holdings in real estate (20%) or equities (26%); other surveys have shown the same results. Legg Mason conducted a similar survey and found that clients were holding 26.5% of their wealth in cash, while at Wells Fargo it was a stunning 40%. So I will repeat Dr. Kelly's line again, "since 'cash' has negative investment returns, investors should be invested in something else."
Last week, however, parking cash on the sidelines proved to be a good idea as the SPX lost nearly 1%, the NYSE Composite surrendered 1.52%, and the Russell 2000 was roughed up for ~4%. Despite the five-session slide from its all-time intraday high of 1985.59, the SPX still managed to stay above its 20-day moving average (DMA), as referenced in last week's letters. Recall, that since late April the 20-DMA has been able to contain declines. In fact, in January when the SPX broke below its 20-DMA it led to a 6% decline. Again in early April when the 20-DMA was violated, the result was a 3% pullback. So when last Tuesday we tested that moving average, it was a logical place to stage a rally attempt. Also worth mentioning was that the NYSE McClellan Oscillator had become about as oversold as it ever gets (see chart on page 3). But while the McClellan Oscillator remains oversold, other oversold indicators are not. For example, the percent of Operating-Companies-Only above their 10-DMAs has failed to travel under 25% when a 10% reading typically signifies an oversold condition. The same can be said about companies below their 30-DMAs at 45% when a reading of 25% or lower tends to signify an oversold reading. Accordingly, this market is "under-bought" rather than oversold.
The call for this week: Toward the end of last week I wrote, "I think the equity markets will remain on the defensive into week's end and then attempt a rally next week. If in that attempt the SPX fails to achieve a new high, then the markets will become more vulnerable to the 10% to 12% decline called for by the historical odds sometime this year." And this morning, on the better news tone from Israel, the preopening futures are better by 6 points. So we will see if the SPX can indeed achieve a new all-time high.
---
"Making a Market Call"

July 7, 2014
By the time the 2nd quarter was complete 2014 was in the process of being transformed from a flat year for risk assets and a strong year for fixed income into a much more encouraging year for the former and perhaps less so for bonds. Indeed if the SPX index were to simply replicate its first +6.05% half performance the full year return would be very close to that of 2010 (12.78%) and 2012 (13.41%), both of which went into the history books as 'good years.' Of course first halves are not always predictive of second halves. 2011's gain of 5.01% in its first two quarters was entirely wiped out by what followed, with most participants grateful that after collapsing in the summer and early fall the SPX index clawed its way back to close the year exactly where it started at 1257.6. With regards to the rest of 2014 our sense remains that the bull market is very much intact, but that round number resistance at 2000 in the SPX (just over 1% above the current price) and 4000 in the NDX (2.6% above Wednesday's close) may prove to be tough levels to surpass in the immediate future.

... Marketfield Asset Management (7/3/14)
In last Monday's strategy report I noted that the week before July 4th has an upward bias for the equity markets. On Tuesday I backed that up by writing, "From 1950 to 2013 the market has delivered positive returns 72% of the time during the last two days of June and the first five days of July." Thackray's Seasonal Investment Guide goes on to write, "By mid-July, seasonal investors should probably be looking for the exits and moving to a more defensive position as the market enters into a period of seasonal weakness." Obviously that statement "foots" with what the folks at Marketfield Asset Management believe given their statement, "But that round number resistance at 2000 in the SPX and 4000 in the NDX may prove to be tough levels to surpass in the immediate future." To be sure, that agrees with what I think, even though the S&P 500 (SPX/1985.44) has surpassed my envisioned resistance zone of 1950 – 1975. The move above that level I would describe as "forereach." For those non-nautical types, the hull of a sailboat, unlike a powerboat, is so "slick" in the water that even after you drop the sails, or cut the engine, the boat continues to move forward ... aka, "forereach."
I was keenly interested in Marketfield's comments on the year 2011 because I have made the comparison to the summer of 2011 in recent missives. Recall, the SPX peaked the second week of July at ~1356 and began to slide. That slide accelerated in late July into early August, culminating with the psychological low of August 9th at 1100. From there the SPX was range-bound between roughly 1120 and 1220 until its undercut low (below the psychological low of 1100) of October 4, 2011 at 1075. At that point the bottoming process was complete with the SPX never experiencing anything more than a 10% decline. In fact, since the 10% pullback of April through June 2012, there has not been even a 10% drawdown.
Like Marketfield, I have revisited the summer of 2011 because I have been getting similar readings for a pickup in volatility arriving in mid-July 2014, very much like what we saw in June of 2011. Moreover, the stock market's internal energy readings are likewise at levels last seen during the summer of 2011. Now history doesn't necessarily repeat itself, but it does indeed sometimes rhyme. Accordingly, I am making a "call" for the potential of the first decent pullback of the year to begin in mid-July or early August; and am recommending culling non-performing stocks from portfolios to raise cash. If said decline fails to materialize, we can always recommit the cash to more favorable situations because longer-term I believe this secular bull market has years left to run.
Speaking of making a "call," last week some of our fundamental analysts made some "line in the sand" type of calls. Those "calls" stemmed from the revelation that the PC computer business fell off a cliff in June. As our IT distribution analyst explained, as paraphrased by me:
Synnex (SNX/$70.37/Market Perform) announced May results, and the quarter was strong, but the key point was that if you look at the forward guidance for August it was way below seasonal guidance distribution at down 5% sequentially. This reflects a drop-off, and a step-down, in the PC refresh cycle. It confirms our end of quarter channel checks that show PC sales started to really slow in May and into June. This is not just important for my distribution group, but other groups because most investors think the PC refresh cycle will continue throughout the 3Q14 and into the 4Q14. There are a lot of PC-related stocks that have done very well year-to-date (YTD) and could be vulnerable as these weak data points start to make their way into the market. PC sales really dropped off in the month of June.
Building on those comments, one of our semiconductor analysts talked about Intel (INTC/$31.14/Underperform), again as paraphrased by me:
Intel is uniquely vulnerable here. I don't want to make this a general thing. This is not a call to sell the entire basket of semi stocks. It is an Intel problem from a hardware perspective. It's just a question of how quickly they lose market share. We think this is an opportunity to tell our clients to get out of Intel.
Wow, I thought, while he didn't use the dreaded four letter word you almost never hear from Wall Street – SELL – the statement, "We think this is an opportunity to tell our clients to get out of Intel" is certainly a strong "call" from any analyst!
It is also worth mentioning that Intel is a D-J Industrial Average (INDU/17068.26) component, as well it is VERY overbought on a near/intermediate-term basis. In fact, except for Boeing (BA/$128.51), Du Pont (DD/$65.80), and McDonald's (MCD/$100.98/Market Perform), all of the Dow components are overbought. Interestingly, the Dow has underperformed most of the other indices YTD. One of the reasons for this underperformance is the Dow is price-weighted. The higher the price of a stock, the more weighting it is given in the index. Another reason for this underperformance is poor stock selection. As the always eagle-eyed folks at Bespoke observe:
Last September, a major shakeup to the index took place in which three stocks were removed (Alcoa, Bank of America, and Hewlett Packard) and three were added (Goldman Sachs, Nike, and Visa). ... All three stocks added to the index last September are down so far in 2014 for an average decline of 4.4%. In terms of their collective impact on the DJIA, they have accounted for 147 points of downside in 2014. Meanwhile, the three stocks that were removed from the index last September are up an average of 19.75% (see chart on next page)!
The call for this week: Just like our fundamental analysts are making a negative "call" on the PC computer business that fell off a cliff in May/June, I am making a "call" that the current set-up in the equity market is remarkably similar to the summer of 2011 that ushered in an 18% decline. While I do not think any pullback from here will be that severe, I do think we are vulnerable to a 10% - 12% decline in the weeks ahead, albeit within the construct of a secular bull market that has years left to run. Still, I was intrigued by a chart sent to me by a prescient stock market observer. Most of you know that I decry such historical comparisons, like I did with the 1929 comparison chart of a few months ago. This one, comparing 1965 to the present, however, may have merits as I studied the news backdrop of 1965 and 1966 versus now (see chart on next page). Last week the SPX tried to surmount 2000 and failed. If you study the last two cyclical bull moves, both of them ended in either one of two ways. They either failed to better a number like 2000, or they made a peak-a-boo look above a similar number. In either event, this feels more like a crescendo to me rather than the start of a new leg to the upside.
---
Additional information is available on request. This document may not be reprinted without permission.
Raymond James & Associates may make a market in stocks mentioned in this report and may have managed/co-managed a public/follow-on offering of these shares or otherwise provided investment banking services to companies mentioned in this report in the past three years.
RJ&A or its officers, employees, or affiliates may 1) currently own shares, options, rights or warrants and/or 2) execute transactions in the securities mentioned in this report that may or may not be consistent with this report's conclusions.
The opinions offered by Mr. Saut should be considered a part of your overall decision-making process. For more information about this report – to discuss how this outlook may affect your personal situation and/or to learn how this insight may be incorporated into your investment strategy – please contact your Raymond James Financial Advisor.
International securities involve additional risks such as currency fluctuations, differing financial accounting standards, and possible political and economic instability. These risks are greater in emerging markets.
Investors should consider the investment objectives, risks, and charges and expenses of mutual funds carefully before investing. The prospectus contains this and other information about mutual funds. The prospectus is available from your financial advisor and should be read carefully before investing.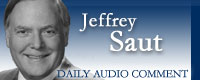 Jeff Saut's Daily Audio Comment is recorded every weekday, except Wednesday, at 9 a.m. ET. It is made available to the public on this Web page at approximately 1 p.m. ET.