Active vs. passive redux

March 23, 2015
Most of you know I spend my days gathering "thin reeds" and try to weave them into a favorable "investment bouquet." As Yogi Berra said, "You can observe a lot by just watchin'!" To this point, about a month ago I wrote:
While seeing accounts in San Francisco recently, I read a story about Boston-based Fidelity having a good year in 2014 from an earnings and revenue standpoint, but that they were losing assets to passive investments, aka index funds, ETFs, etc. Here the observation is that this is what you see at inflection points where individual investors are doing the exact wrong thing at the wrong time.
Since then numerous articles have suggested that you can't outperform the indices, so you should just index your portfolio and forget it. The flow of funds data indicates that is exactly what many investors are doing; and why not, after a few years where ~90% of active portfolio managers have underperformed the S&P 500 (SPX/2108.10). Last week there was yet another article titled "The Bottom-up Stock Picker Is Dead." I felt like sending that article to some famed "stock pickers" like Ron Baron, but thought better of it. Harkening back to the "thin reeds" approach, you tend to hear about indexing, worthless robo brokers, and such stuff around inflection points. The inference is, you should probably be selling, or at least reducing, your passive investments and switching those funds to active managers. It's not that passive investments don't have a place in portfolios, but at this stage of the market cycle I would underweight passive investments and overweight active investments.
In my February 23, 2015 Strategy Report I discussed The Wall Street Journal article, "The Case for the Active Mutual-Fund Manager" by Michael A. Pollock. Mr. Pollock began with, "Index funds clearly have won the hearts and minds of many investors." A paragraph later he writes, "Little surprise, then, that last year, people yanked $98.58 billion out of actively managed U.S.-stock mutual funds while putting $71.34 billion more into 'passive' ones that merely track an index." Hereto, the observation for the contrary investor is that participants should be doing the opposite. The article goes on to state five reasons why you should consider active management at this stage of the bull market (as paraphrased):
Investors have flocked to dividend-paying ETFs for income as yields have fallen. Such ETFs, however, are often focused too narrowly on certain sectors. Such ETFs only sell a stock if it no longer fits the mission. Meanwhile, if market sentiment shifts away from that sector, it can hurt its performance. An active manager could limit the impact of such shifts by diversifying.
If the markets start trading sideways, like they did from 2000 – 2008, nearly two-thirds of active managers of large-cap funds beat the S&P 500.
Bond yields are likely headed higher. Since yields move in the opposite direction of bond prices, if rates are going higher it could be risky to own an ETF that closely tracks a broad bond index.
ETFs make it easy to get non-U.S. exposure. But those ETFs tend to be based on market capitalization weighted indexes that tilt toward the largest foreign markets, often exposing investors to weaker markets like Russia and Western Europe. Active managers can fare better by diversifying away from such markets.
If you are worried about volatility, active managers have more ways to play defense. They can own higher-quality stocks and trim positions as valuations rise. They don't have to have the "pedal to the metal" when markets are going up, and they can put a brake on more quickly when markets are going down.
Also speaking to this point, Rob Isbitts published a MarketWatch article in December 2014 titled "Index Funds Beat Active 90% of the Time; Really?" Using the timeframes of 15 years, as well as 10 years, ending 12/31/13, he found:
Specifically, there were no time periods in which the S&P 500 outperformed 90% of mutual funds. The index was a middle-of-the-road performer in most of the 24 separate time period/peer group combinations we studied. During the two bull periods, the index outperformed 80% and 63% of its peers. However, during the down market cycles (bear), the index beat only 34% and 38% of its active management competitors.
Another, almost unreported "thin reed," is that index king Vanguard Group's actively managed funds outperformed their respective index benchmarks. To wit, "Over the last three years, 20 out of Vanguard's 30 actively managed stock funds outperformed their benchmark," according to Thomson Reuters (dated 12/2014)." So I will say it again, "I would rotate out of, or at least reduce, passive investments and into active investments at this stage of the market cycle. Yet, a few other rotations are going on currently.
In talking to a number of portfolio managers (PMs) at our recent institutional investors conference I gathered that one of the rotations is out of U.S. stocks and into European stocks. As one PM stated, "It's not that the U.S. has lost its status, not because the U.S. is going to have negative returns, but because other places around the world have become more attractive." And it's true; places like Europe are cheaper than the U.S. Moreover, many think Draghi's quantitative easing bazooka is going to produce the same kind of asset elevation seen in the U.S. since 2009. While I would like to believe that, I do not. Certainly there are select companies in Europe that are attractive, but strategically I don't think Europe is there. For Europe to get to a better structural place over the next three to five years requires policy reform, particularly in France and Italy, and I just don't think that is in the cards any time soon.
The other noticeable rotation is into small- and mid-capitalization stocks here in the U.S., driven by the belief the strong dollar is going to the hurt the earnings of many of the international companies that populate the S&P 500. With last week's 2.66% sprint, the SPX is now up 2.39% year-to-date (YTD). However, the S&P MidCap is up 6.00% and the S&P 600 SmallCap is better by 4.63%. I also find it interesting that "growth" is beating "value" with MidCap Growth up 8.64% YTD, while SmallCap Growth is higher by 8.02% YTD. To be sure, the strong dollar is impacting many international companies. It is also true the small/midcap complex has much less exposure to currency fluctuations. Accordingly, this rotation makes sense to me. That said, a number of indicators suggest the Dollar Index rally is going into a pause, if not a pullback, phase, having made a trading top on 3/13/15 with a peekaboo "look" above 100 (see chart 1 on the next page). As for crude oil, I still think it is in a bottoming phase and may have already bottomed.
The call for this week: To use another Yogism, "It's déjà vu all over again" because last week was reminiscent of the week of February 22, 2015 where there was a Greek deal and dovish words from the Federal Reserve that caused stocks to jump. Last week's Dow Dance took the senior index within ~161 points of its all-time closing high of 18288.63 made on March 3, 2015. Not to forget the Industrials made a new all-time high last December. What is interesting here is that the D-J Transports (TRAN/9148.13) are close to their all-time high of 9217.44. If the Trannies can close above that level, it would be yet another Dow Theory "buy signal." This morning, however, the S&P preopening futures are lower (-4.50), troubled by the letter Greece's PM wrote Merkel about the "impossible debt obligations" and the Houthis seizing a strategic Yemeni city.
---
Manic depression

March 16, 2015
"Manic depression is touching my soul. I know what I want but I just don't know. How to, go about gettin' it. Feeling sweet feeling, drops from my fingers, fingers. Manic depression is catchin' my soul."
... Jimi Hendrix, Manic Depression, 1967
Mr. Market seems confused. One day he shows up in a jovial mood and the next day he is despondent. Plainly, at least year-to-date, Mr. Market has been manic depressive. I like this story:
Ben Graham, my friend and teacher, long ago described the mental attitude toward market fluctuations that I believe to be most conducive to investment success. He said that you should imagine market quotations as coming from a remarkably accommodating fellow named Mr. Market who is your partner in a private business. Without fail, Mr. Market appears daily and names a price at which he will either buy your interest or sell you his. Even though the business that the two of you own may have economic characteristics that are stable, Mr. Market's quotations will be anything but. For, sad to say, the poor fellow has incurable emotional problems. At times he feels euphoric and can see only the favorable factors affecting the business. When in that mood, he names a very high buy-sell price because he fears that you will snap up his interest and rob him of imminent gains. At other times he is depressed and can see nothing but trouble ahead for both the business and the world. On these occasions he will name a very low price, since he is terrified that you will unload your interest on him.

Mr. Market has another endearing characteristic: He doesn't mind being ignored. If his quotation is uninteresting to you today, he will be back with a new one tomorrow. Transactions are strictly at your option. Under these conditions, the more manic-depressive his behavior, the better for you. But, like Cinderella at the ball, you must heed one warning or everything will turn into pumpkins and mice: Mr. Market is there to serve you, not to guide you. It is his pocketbook, not his wisdom, that you will find useful. If he shows up some day in a particularly foolish mood, you are free to ignore him or to take advantage of him, but it will be disastrous if you fall under his influence. Indeed, if you aren't certain that you understand and can value your business far better than Mr. Market, you don't belong in the game. As they say in poker, "If you've been in the game 30 minutes and you don't know who the patsy is, you're the patsy."

... [A]n investor will succeed by coupling good business judgment with an ability to insulate his thoughts and behavior from the super-contagious emotions that swirl about the marketplace. In my own efforts to stay insulated, I have found it highly useful to keep Ben's Mr. Market concept firmly in mind.

Warren Buffett's Letter to Shareholders, 1987 Berkshire Hathaway Annual Report
I particularly like Warren Buffett's turn of the phrase, "Mr. Market is there to serve you, not to guide you. It is his pocketbook, not his wisdom, that you will find useful. If he shows up some day in a particularly foolish mood, you are free to ignore him or to take advantage of him, but it will be disastrous if you fall under his influence." To be sure, as I have often written, "Patience is the rarest commodity on Wall Street." However, it seems investors' nature has become an "active" one, when at times the best strategy is to be inactive. And, "inactivity" has been our preferred strategy so far this year, consistent with our mantra, "The first few months of 2015 were going to be rocky and more volatile."
A week ago Friday Mr. Market showed up depressed, leaving the D-J Industrials off some 279 points. The next Monday he was happier, resulting in a 139-point pop. Tuesday, Mr. Worry Wart let the senior index slide ~333 points. Wednesday he was more tempered (-27.55), but the next day Mr. Market was euphoric, producing a Dow Delight of roughly 260 points. That delight took the S&P 500 (SPX/2053.40) above my envisioned 2050 – 2060 overhead resistance zone on an intraday basis, prompting many emails asking, "Hey Jeff, the SPX is at 2066, should we buy this rally?" My responses read, "No, intraday movements are NOT important, it is the closing price that counts." And sure enough, by the closing bell, the SPX had slipped back below 2060, even if it was only marginally so. Over the weekend I received more emails wanting to know if the SPX was going to make a double-bottom at ~2040 using the intraday "bookend lows" of last Monday and Friday. While markets can certainly do anything, I think the next real support zone is at 1980 – 2000, making the odds for a potential double-bottom at 2040 not tipped far enough in our favor for my liking.
A more interesting question, at least for me, would be, "Is crude oil going to make a double-bottom around the $44 per barrel level?" As noted six weeks ago, I thought oil bottomed with the "undercut low" of $43.58 on January 29th, and I have held to that belief, but last week's action is calling that view into question. However, 30 years ago (1985 – 1986), after a 60%+ shellacking, it took four months before oil made a double-bottom. And, it was following a 50%+ decline, during the 1997 – 1999 timeframe, that it took three months for oil's bottom to be completed (see charts on page 3). This week should render an answer to the double-bottom question for both oil and the stock market, provided Mr. Market does not go into snooze mode. In my opinion, the odds of that happening are pretty small given the "call" we made on March 4th that a move of some consequence was getting ready to occur based on the narrowness of the Bollinger Bands and the buildup of the stock market's internal energy (see those attached comments on page 3).
For me, it has always been amazing how the news FOLLOWS the price action of the markets, not vice-a-versa. To wit, last week: 1) U.S. sales dropped 2%, and are now off four months in a row; 2) the University of Michigan March Confidence Index missed, at 91.2 versus 95.4 in the previous month; 3) Refinance applications fell by 2.9% week-over-week as the 30-year mortgage rate rose to 4.01%; 4) Retail Sales (x-gasoline and autos) fell by 0.2%; and 5) U.S. business inventory growth was flat. Such reports brought about cries of deflation. Speaking to the alleged deflation thesis, last week my friends at Bloomberg wrote, "Here's one sign of the U.S. economic recovery that few Americans will rejoice over, the average cost of a wedding just hit a five-year high." However, as the must have service of Joan McCullough notes about the Bloomberg article:
[The] Upshot: average wedding spending is now at $31.2k. The return of big-budget weddings may be one sign that the U.S. consumer is finding her economic footing again following the biggest recession in the post-World War II era. ... Spending per head was at its highest level since the company began surveying brides in 2007, as the size of the average guest list shrank to 136 people, the lowest on record! WTF? [Says Joan], they [Bloomberg] just threw that in there. And I'll bet they didn't even realize what they just revealed. Namely, this: That the bride's $31,200 U.S. dollars do not buy what they used to buy! Spending Up; Guest list down; Puh-leez. Point made? Thank you very much.
And that, dear reader, is a GREAT insight.
The call for this week: Deflation is, and always has been, a bad bet! Deflation in equity prices is another thing because pullbacks occur frequently. We have experienced such "price deflations" a number of times since the secular bull market began six years ago. In 2010 the SPX had a 17.1% decline, in 2011 there was 21.6% drawdown, and in 2012 we saw a 10.9% haircut. Since June 2012, however, we have only experienced one haircut even close to 10% and that was the 9.8% affair that ended on October 15th of last year. Whether the current intraday pullback of 3.8% turns into something of significance remains to be seen, but this week should go a long way in telling us. Indeed, Friday represents a triple-witch where stock options, futures, and futures options all expire on the same day. Triple-witch weeks tend to have increased volatility, especially when combined with a FOMC meeting, yet I don't know how much more volatility we can take. As stated, if the SPX doesn't form a double-bottom at 2040, the next support zone is 1980 – 2000. This morning, however, Mr. Market seems happy with the dollar and oil lower, while The Wall Street Journal waxes of a deal with Iran. Those metrics have the preopening S&P futures up ~10 points despite Russia's "snap" military action in the Arctic. Still, overhead resistance remains in the 2050 – 2060 zone. But remember, "Mr. Market has another endearing characteristic: He doesn't mind being ignored."
Excerpt from the Morning Tack (3/4/15)
I revisit these inflection points this morning not because the NASDAQ has tagged 5000, but because near each one of those inflection points the Bollinger Bands have narrowed. According to Investopedia, "Because standard deviation is a measure of volatility, Bollinger Bands® adjust themselves to the market conditions. When the markets become more volatile, the bands widen, and during less volatile periods, the bands contract. The tightening of the bands is often used by technical traders as an early indication that the volatility is about to increase sharply." This narrowing happened at the beginning of 2013 right before the S&P 500 (SPX/2107.78) started its "moonshot" coincident with a Dow Theory "buy signal;" and, it happened in late-2007 coincident a Dow Theory "sell signal." Well, it has just happened again with the Bollinger Bands at their narrowest since late-2007. Unfortunately, the "bands" do not tell us which way the markets are going to move, but that a move of some consequence is coming.
---
Stranded in NYC

March 9, 2015
The week began well enough as I arrived Sunday a week ago in Orlando for the 36th annual Raymond James Institutional Investors conference. As previously stated, there were more than 1,000 portfolio managers (PMs) and analysts there to listen to some 300 companies' presentations. In addition to the PMs and their analysts, our analysts anchored the presentations by the CEOs and CFOs of those companies. The presentations I attended were packed, making it difficult to finds the ones that were lightly attended, which in the past has been an excellent indicator that those stocks should be bought (read: nobody has any interest, implying no one is left to sell). The one that really stands out was in March of 2009 when MarineMax (HZO/$25.64/Strong Buy) stock was trading under $2 per share, which was well below the value of its boat inventory. This year's conference was the best yet, and our analysts have done a terrific job of capsulizing the highlights of those presentations (please contact your Raymond James salesperson). I personally saw a number of company management teams and met with numerous PMs from this country and abroad. Some of the more frequent questions were:
Is the U.S. dollar going to stay strong? (I responded, "Yes.")
Is that going to hurt large cap companies? (yes, marginally)
Are earnings estimates going to come down? (I think they have already over-reacted.)
Are small/mid-caps better than large caps? (They are more expensive.)
How about value vs. growth? (Value is less expensive than growth for small/mid/large-caps.)
Have oil prices bottomed? (Yes)
How about commodities? (I don't have much interest, except with the Energy sector.)
And those, ladies and gents, were the most frequently asked questions, except for the ubiquitous question from the PMs, "What are individual investors doing?" My response here has often been chronicled in these missives. The individual investor, in aggregate, thinks the only reason stocks are up is because of the liquidity the Fed has supplied. As stated, they don't consider earnings have improved dramatically since 2008 and that things are getting better. To be sure, the equity markets do not care about the absolutes of good or bad, but only if things are getting better or worse, and things are getting better. On that note, I left the conference early Wednesday morning to head to New York City for Arthur Cashin's birthday party.
The party was held at my friend's condo (Eric Kaufman) in the old J.P. Morgan building across the street from the New York Stock Exchange (NYSE). Eric is one of the founding members of Friend of Fermentation (FOF), a group that convenes at Bobby Van's, which is caddie-corner to the entrance to the NYSE, every Thursday after the "close." At the party were some of Wall Street's "best and brightest," including personalities like CNBC's fair and brilliant Kelly Evans. The party was a smashing success and I was glad I was able to attend, having missed the FOF Christmas Party.
I awoke the next day to a blizzard and as the limo arrived to collect me for a TV appearance, I listened to the morning "squawk" on Bloomberg radio. One of the anchors said, "This is the worst winter since 1888!" That comment brought back thoughts of the "Great White Hurricane of 1888," which I have written about numerous times. Around 9:30 a.m. I arrived at the "green room" to do Maria Bartiromo's show and then returned to said "green room" following that "hit" to see if my flight to Tampa was going to be canceled. I waited for more than three hours as Delta kept saying everything was on time, even after their plane slid off the runway. The time was well spent, however, because I got to hug my friends Liz Claman and Liz MacDonald and catch up with them. Unexpectedly, Goldie Hawn was even there, which was a real treat! After more than three hours, Fox reported LaGuardia had been closed, so I trudged through the snow from 48th and 6th Avenue (Fox's headquarters) to the Hilton at 53rd and 6th avenue to spend the night. Hereto, the extra time in NYC was not wasted because it gave me the chance to have dinner with Eric Kaufman and Joe Brusuelas, who is the Chief Economist for McGladrey. As always, the food at Mr. K's was spectacular, but was WAY outdone by the conversation over dinner. I have talked with Joe many times before at various FOF confabs and always found him to have keen insights on the economy. Like me, Joe thinks a pickup in capital equipment spending is coming, which trumps just about everything else (read: improving economy). That stronger economy view came home in spades with Friday's nonfarm payroll report, prompting our economist to write, "Another strong month. Market participants are likely to view this as bringing the Fed's initial rate hike closer (June). Higher bond yields and a stronger dollar on the report."
Plainly, the NFP report was strong, but in totaling the economic reports for last week shows of the 28 reports, 13 were weaker than expected, eight were stronger, and the rest were neutral. That's okay, but it should not have been strong enough to cause a 300-point Dow Dump. Moreover it is pretty clear; yes, Ms. Yellen is going to raise interest rates, but it is going to be slowly. Further, if she is really "data dependent," she should look at Bespoke's Economic Diffusion Index that is near the lows recorded during the Financial Crisis (See chart 1 on page 3).
For me the two biggest events of last week were interest rates and crude oil. The rate ratchet left the 2-year T'note trading within 1 basis point of its highest yield in four years (@ 0.73%), while the 10-year T'note now changes hands at 2.24%, up ~36% from what we termed a "double bottom" at 1.65% five weeks ago. As for crude, it rallied following an inventory report that should have been bearish. Hereto, I think oil has bottomed. Recall it took four months, following the 66% price decline in 1985 – 1986, to form a bottom, and three months to make a base following the 1996 – 1997 50% decline. We like the energy sector here and would point you to the favorably rated names in our research universe.
Speaking to sectors, of the 10 S&P macro sectors only the Utility space is oversold. All the rest have either a neutral or overbought configuration. Looking at the 100 or so industries shows that many of them are out-performing the broad stock market. Those include technology, retail, restaurants, rails, industrials, healthcare, consumer staples, credit cards, biotech, autos, airlines, and asset managers. Asset managers are particularly interesting because a mere 1% increase in interest rates has a huge impact on bottom line earnings. This is likely why the NYSE ARCA Securities Broker Dealer Index (XBD/$184.84) tagged a new reaction high on Friday before settling back to close on the flat line. I continue to tilt portfolios accordingly.
The call for this week: So, to celebrate its sixth bull market birthday, the S&P 500 (SPX/2071.26) took-out its 2080 – 2100 support levels on Friday's Flop and now has "eyes" for 2050 – 2060. Obviously, the large buildup of internal energy I have been discussing is being released on the downside, which is somewhat surprising, but not totally unexpected given the divergences highlighted in these reports. For example, in the past when the D-J Transports have failed to confirm the D-J Industrials new highs within six weeks, it has led to pullbacks of 8% to 10%. Moreover, early last week I talked about the S&P 500's Bollinger Bands being at their narrowest since late 2007. That is typically a precursor to a decent move in the equity markets. The problem is, much like my internal energy indicator, it does not tell you which way the move is going to come. All it "says" is a pretty decent move is coming. So far the SPX has lost a mere 2.4% from its intraday high (~2118) of February 24th to its intraday low (~2067) last Friday. Given the Bollinger Bands, and the internal energy readings, that hardly seems like enough downside. The near-term positive is the McClellan Oscillator is as oversold as it was at the October 15, 2014 "selling climax" low. Longer-term, it is very positive that both the normal Advance/Decline Line, and the Operating Company Only Advance/Decline Line, made new highs last week. And, if past is prelude, the SPX has years left to run after emerging in 2013 from the range-bound parallel channel it was in from 2000 to 2013 (see chart 2). This morning the preopening futures are flat awaiting the commencement of Draghi's QE program.
---
Additional information is available on request. This document may not be reprinted without permission.
Raymond James & Associates may make a market in stocks mentioned in this report and may have managed/co-managed a public/follow-on offering of these shares or otherwise provided investment banking services to companies mentioned in this report in the past three years.
RJ&A or its officers, employees, or affiliates may 1) currently own shares, options, rights or warrants and/or 2) execute transactions in the securities mentioned in this report that may or may not be consistent with this report's conclusions.
The opinions offered by Mr. Saut should be considered a part of your overall decision-making process. For more information about this report – to discuss how this outlook may affect your personal situation and/or to learn how this insight may be incorporated into your investment strategy – please contact your Raymond James Financial Advisor.
International securities involve additional risks such as currency fluctuations, differing financial accounting standards, and possible political and economic instability. These risks are greater in emerging markets.
Investors should consider the investment objectives, risks, and charges and expenses of mutual funds carefully before investing. The prospectus contains this and other information about mutual funds. The prospectus is available from your financial advisor and should be read carefully before investing.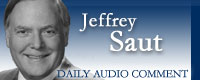 Jeff Saut's Daily Audio Comment is recorded every weekday, except Wednesday, at 9 a.m. ET. It is made available to the public on this Web page at approximately 1 p.m. ET.