Homesick

September 2, 2014
Because interest rates, credit growth and prices are mutually interdependent, the problem of analyzing their trends can be approached from a variety of starting points. In past reports we have looked at the level of rates as a measure of affordability of credit usage from a borrower's perspective and have come to the conclusion that money was too costly in relation to growth rates of incomes, profits or collateral values for much more credit growth to be sustained without producing a parallel growth of defaults, failures and forced liquidations. The general effect of this process is to slow the growth of total credit by undermining its quality and longevity. . . . Another perspective from which we have examined the problem is that of asset prices and their role in changing the supply/demand balance and thereby influencing the demand for credit as a means of acquiring assets. We have examined the way in which asset prices in and of themselves can reach levels at which excesses and deficiencies in supply and demand can change the basic price trend of any given asset category. ... The present situation in real estate bears some striking similarities to the heyday of the railroads. The initial boom period of the 1970s was sparked by a combination of high inflation, low real interest rates and a migration of population to the then prosperous commodity producing regions. As the continuing inflation made leveraged real assets financed at fixed rates more and more attractive, nearly limitless pools of capital were made available for construction, regardless of the initial economics of the project.

... Comstock Partners, "Homesick" (7/29/88)
In 1986 Stan Salvigsen, Michael Aronstein, and Charles Minter left Merrill Lynch to form the money management firm Comstock Partners. Thus began some of the best, and most colorful, economic/equity research Wall Street has known. I still vividly remember one of their initial reports, "That Ain't Mud on Your Boots, Partner." The trifecta were one of the first to predict the massive decline in interest rates, but unfortunately Stan passed away at 53 and was unable to realize how terrific that "call" would prove to be. I was reminded of Comstock's report titled "Homesick" by recent cries from select pundits that the real estate/housing recovery is over. Those cries have echoed down the canyons of Wall Street for weeks, but seemed to hit their zenith when last Monday's new home sales were much weaker than expected. Indeed, the median forecast was for sales of 430,000 homes on a seasonally adjusted annualized rate, yet the actual number was 412,000. Remember, however, there is a large level of uncertainty in the monthly figures. July sales were reported as -2.4% +/- 11.9% – meaning that we can be 90% certain the true monthly change was between -14.3% and +9.5%. As our economist, Scott Brown Ph.D. writes, "That is, the reported decrease in July is not statistically different from 0%. Also, note that the median sales price is dependent on the mix of homes sold (regional strength, high-end vs. low-end, etc.) and is not a good measure of home prices in general. Despite said uncertainty, the spin masters trumpeted those numbers prove the Housing Hurray is over.
Their "proof" is allegedly reflected by the fact that "all cash" home sales have fallen to ~38% in the recent quarter from the previous quarter's 42% level. While that may sound like a worrisome trend, common sense suggests private equity firms like Blackstone, who here in the Tampa area bought roughly $1 billion worth of "short sale" homes, have sucked-up the available supply. To wit, the inventory of vacant homes for rent/sale has declined from 6.6 million units in 2009 to ~5 million currently. The Blackstones of the world also are now competing with individuals that need to buy a house as household formations finally begin to increase. But there are more reasons the housing recovery is still in place. As my friends at the GaveKal organization write:
US households are no longer overleveraged. The household leverage ratio, measured by household debt to asset ratio, has declined back to 1990s level and household debt has begun to show some slight uptick. Given the (diminished) structural growth outlook for the US economy such reduced levels of average indebtedness look appropriate, certainly based on historical norms (see charts 1 and 2). [Further], Banks have started to loosen credit standards for prime mortgages, while standards for subprime lending, which tightened after the bust, look to be on the point of relaxation. Easier finance is a vital ingredient needed to draw back into the market homebuyers that have been squeezed out by effective financial exclusion (chart 3). [Finally], more expensive rental housing is pushing people to buy rather than rent. Home ownership affordability is near its average of the last 20 years. By contrast, the migration into rental housing caused by the 2007-11 bust has made renting very expensive. Households face the choice of enduring higher rents or getting back on the housing ladder, even if they missed the easy price gains of the last three years (chart 4).
I was just with some of the folks from GaveKal and was fortunate enough to discuss various strategies that have allowed their mutual funds to outperform respective benchmarks. I also opined that given their views on an improving real estate market (I agree), and my views on a healthy automobile market, it seems remote that the U.S. economy will slide back into a soft economic spot. Plainly, that's what the equity markets are sensing as they continue to ignore the obviously worsening geopolitical environment. Combine that backdrop with the 11.7% 2Q14 earnings growth, and the 6% revenue-per-share gains, and is it any wonder the equity markets remain perky. Does that mean we won't get a 10% - 12% pullback? Of course it doesn't! Everyone knows it is coming, they just don't know when. As stated, I thought there was a high degree of probability such a decline had begun in July, but after falling through its first support zone (1940 – 1950) the S&P 500 (SPX/2003.37) stayed above its secondary support zone of 1890 – 1900 and re-rallied to a new all-time high. Too bad the same cannot be said for the D-J industrials (INDU/17098.45), or the D-J Transports (TRAN/8408.02), causing one Wall Street wag to exclaim, "Can you spell non-confirmation?!"
Speaking to the report (internal use only) that Andrew Adams "inked" about various investment ideas from our recent meetings with portfolio managers (PMs), and that are followed by Raymond James' fundamental analysts with favorable ratings titled "Invest With The Best," I have received numerous requests for those names and the stories accompanying them. This morning I will share two. The first is Starwood Hotels & Resorts Worldwide (HOT/$84.54/Outperform) and according to the PM I met with Starwood has announced plans to and is repurchasing 10% of its outstanding stock and moving toward an "asset light" business model. That means the company will be selling some $2 billion (or more) worth of hotel properties in lieu of managing them rather than owning them. The PM's opinion is Starwood will be distributing some of the cash raised in the form of dividends. The second idea garnered from our recent meetings with PMs is Mohawk Industries (MHK/$146.02/ Outperform). In this case the PM thinks 80% of revenues come from the "new" and "remodel" businesses. Moreover, Mohawk is first, or second, in each of its business segments. According to this PM, the company has $10+ per share in earnings power, yet is trading at 13x depressed forward earnings. For more information, please see our fundamental analysts' recent reports.
The call for this week: Mark Twain once said, "OCTOBER: This is one of the peculiarly dangerous months to speculate in stocks. The others are July, January, September, April, November, May, March, June, December, August, and February." But the truth is the month of September has the worst track record. So we enter the month of September, which since 1928 has experienced an average decline of 1.07% and has seen gains a mere 45.3% of the time. That said, the August 11, 2014 traders' "buy signal" we identified was reinforced when the SPX broke out above its previous support zone, which then became the overhead resistance zone of 1940-1950, and traded to a new reaction high. This morning, the SPX preopening futures are higher by 4 points despite Putin's Prose about being able to take Kiev in a fortnight and his reminder that Russia is a major nuclear power. To me, it is pretty eerie our markets can ignore such rants.
---
"Being Right or Making Money"

August 25, 2014
"Apparently, Barry Bannister has raised his 12-month S&P 500 price target from the lowest on the Street to the highest price target, an increase of 450 S&P points in his forecast from 1850 to 2300. Bannister was, not surprisingly, self-confident in view. [However] never did I hear the words, 'I was wrong, or I don't know.'"

... Doug Kass, Seabreeze Partners
So wrote my friend Dougie Kass in his blog of last Friday referencing Stifel Nicolaus' strategist Barry Bannister. Now I grew up sailing on the Chesapeake Bay and one of the old watermen's axioms is, "You can't change the direction of the wind, but you can adjust the sails!" As with sailing, you can adjust your "sails" in the stock market because if you do not adjust for the changing causal relationships you are doomed. Hence, I have no trouble with Barry Banister adjusting his price target. However, like Doug, I find it disingenuous that there is no mention of being wrong. As Doug further scribes, "When I am wrong, I try to say/write that I have been wrong (as I have been on my market call this year). When I don't know, I say it. I have learned to never be self-confident in view and to worry about what or who lies over my shoulder (especially of a Cossack kind!). As Grandma Koufax used to say, 'Dougie, honesty is the best (insurance) policy'." Doug's prose reminds me of another Wall Street icon, namely Peter L. Bernstein, who wrote:
After 28 years at this post, and 22 years before this in money management, I can sum up whatever wisdom I have accumulated this way: The trick is not to be the hottest stock-picker, the winning forecaster, or the developer of the neatest model; such victories are transient. The trick is to survive. Performing that trick requires a strong stomach for being wrong, because we are all going to be wrong more often than we expect. The future is not ours to know. But it helps to know that being wrong is inevitable and normal, not some terrible tragedy, not some awful failing in reasoning, not even bad luck in most instances. Being wrong comes with the franchise of an activity whose outcome depends on an unknown future (maybe the real trick is persuading clients of that inexorable truth). Look around at the long-term survivors at this business and think of the much larger number of colorful characters who were once in the headlines, but who have since disappeared from the scene.
As stated in previous missives, I am wrong, and wrong a lot, but being wrong comes with the franchise of an activity whose outcome depends on an unknown future. My redeeming feature is that I am unafraid to admit to being wrong. As well, when I am wrong I am usually wrong quickly and for a de minimis loss of capital. Case in point, around the beginning of July, for a plethora of reasons chronicled in these reports, I began looking for a pullback. As events unfolded it felt more and more like we were finally going to get the 10% - 12% decline the historical odds call for some time this year. Indeed, first the S&P 500 (SPX/1988.40) broke below the 1940 – 1950 support, bringing into view the secondary support zone of 1890 – 1900. But as we approached that 1890 – 1900 zone the decline was arrested by some encouraging geopolitical news; and when the SPX traveled above the now 1940 – 1950 overhead resistance zones, I had to admit to being wrong and embrace the "call" of testing the highs and maybe more.
At the time I suggested three potential trading patterns. First, the SPX rallies up to either its all-time closing high of 1987.98, or its all-time intraday high of 1991.39, and then fails to make a higher high, leading a pullback attempt. Second, the SPX rallies slightly above its all-time highs with a peak-a-boo "look" to new highs enough to get everyone excited about another new leg to the upside just in time to get a pullback. That would be the reciprocal pattern of the bottoming sequence that saw a peak-a-boo "look" to new lows on October 4, 2011. At the time I was comparing that pattern with the similar patterns of 1978 and 1979 that saw those "undercut lows" end the decline, which is why we were bullish on October 4, 2011. As a sidebar, I continue to believe that was the "valuation low" launching this current bull market, not the "nominal price low" of March 2009. The third scenario is that this is for real and we are set for another leg up in the ongoing secular bull market. And to that secular bull market theme, while I have been wrong a number of times on the magnitude of various pullbacks, I have never wavered on the fact that I think we are into a bull market. In the attendant chart (chart 1) the nominal price lows of December 1974 and March 2009 are delineated by the blue arrow. Worth noting is that nobody measures the 1982 to 2000 secular bull market from the December 1974 low, but rather the valuation low of August 1982. When you measure this bull market from its respective "valuation low" of October 4, 2011, it is not nearly as long-of-tooth as the bears would have you believe.
Given last week's action obviously the first negative scenario has been eliminated. This week should tell us if this is just a peak-a-boo "look" to new highs, or something more. Surprising, at least to me, is that the 11-session straight-up move has not resulted in a massively overbought condition in the NYSE McClellan Oscillator (chart 2). It also begs the question, "Are we in a buying stampede?" Recall "buying stampedes" tend to last 17 to 25 sessions, with only one- to three-session pauses/pullbacks before they exhaust themselves on the upside. Hereto, this week should tell us if this is a stampede. If it is, today is session 12. However, I am still worried about the topping formation coincident with the 64-65-66 month sequence often referenced in these missives that has "topped" a number of rallies. This month is month 65.
This morning worries about the "humanitarian aid" from Russian convoys, Chinese jets dangerously close to our surveillance planes, Iceland's volcano, and the earthquake in Napa Valley are being offset by hints of further monetary easing by the ECB, more Monday merger mania, and better geopolitical events. The result has left the 5-year to 30-year U.S. yield curve the flattest it has been since the 2008 financial crisis, so the bond market is worried about something. Stock pickers at the Bank of Montreal, however, are betting on improving growth in the U.S., and a decline in the euro currency, which should be bullish for U.S. equities. I agree and continue to believe we are in a secular bull market that has years left to run.
The call for this week: The title of this report is "Being Right or Making Money," which is the title of a book by Ned Davis that resides on my desk. I would certainly rather make money than "be right!" But, "Being wrong comes with the franchise of an activity whose outcome depends on an unknown future." So yeah, I was wrong and all we got was yet another ~5% decline. But, again I wasn't wrong for long because when the SPX broke above the 1940 – 1950 overhead resistance zone I said we were going for the all-time highs; and here we are with the preopening futures up by 6 points at 4:30 a.m. Meanwhile the U.S. dollar is sharply higher on Kuroda and Draghi's dovish comments and don't look now but gasoline has declined from ~$3.30 per gallon to $2.70 basis the futures market. That is obviously consumer friendly, which is why the Consumer Discretionary sector was up by more than 2% last week. Indeed, last week the equity markets seemed to be driven by better economic news (existing home sales +2.4%, building permits +8.1%, housing starts +15.7%, LEI +0.9%, Philly Fed 28.0, etc.). To the Philly Fed report, I don't understand (there's that phrase again) how a 3.5 pop in Inventories and a 0.8 rise in the Average Workweek offset declines in seven other components (see chart 3).
---
Lucid Dreaming!

August 18, 2014
"Experts in the phenomenon known as lucid dreaming, where sleeping people are aware that they're in a dream, say dreamers should look for reality checks, or details that look different in dreams than in real life. . . . Some lucid dreamers are able to control elements of their dreams once they realize they're dreaming. They do what's impossible or unlikely in real life, like fly or meet famous people. ... Others use the technique to solve problems, spur creativity, overcome nightmares or practice physical skills, says Daniel Eracher, a professor at the University of Bern's Institute for Sport Science, who has conducted surveys of lucid dreamers. ... [Researchers] found that people with frequent lucid dreams are better at cognitive tasks that involve insight, like problem-solving. Other researchers have shown that people who dream of practicing a routine can improve their abilities in that activity in real life."

... The Wall Street Journal, by Shirley S. Wang (8-12-14)
Evidentially, the "lucid dreamers" on Wall Street practiced their skills two weeks ago as professional traders were sneaking large "buy orders" into the equity markets on the closing bell. Simultaneously, the Commitment of Traders' Report showed those same traders were dramatically reducing their "short sale" bets. At the time I was writing that the inference of such actions suggested the "pros" were betting the anticipated decline, which began in July, was going to be just another 5% - 7% pullback before the uptrend resumed. Last week, that strategy looked like the correct call with the S&P 500 (SPX/1955.06) having bottomed the previous week at a ~4.3% decline before accelerating to the upside last week. As written, I thought said acceleration was driven by the week's option expiration, which felt like an upside squeeze into Friday's "witch twitch." And, it looked like that was the way it was going to play, until Friday's Russian Roulette.
I warped in around 6:00 a.m. on Friday to find the alleged humanitarian aid convoy, of some 240 Russian trucks, had stopped short of the Ukrainian border, but 23 Russian military vehicles had snuck past the border guards during the night. Evidentially the equity markets thought nothing of such shenanigans as the preopening futures were printing higher with the "pros" still wanting to be "long" going into the afternoon option expiration. However, things changed dramatically at 10:30 a.m. when news stories swirled around the world's trading desks that the Ukrainian army had engaged the Russian convoy with shots being fired. At the time, nobody knew if body-bags were necessary, so equity markets swooned and bonds rallied. The Dow Dive typified the world's markets with the senior index losing ~138 points from the previous session's close, and an eye-popping 200-points from that session's intraday high. The consternations continued into the 2:30 p.m. "pivot." (The equity markets tend to have two pivot points. One occurs at 11:30 a.m., when traders "square" their positions and leave for lunch. The other is at 2:30 p.m. when again they square position going into the final hour of trading.) After Friday's 2:30 p.m. "pivot point," however, there was no second-shoe to fall on the Ukrainian/Russian situation and a rally attempt ensued into the close. In a pre-interview with my friend Susie Gharib, for last Friday's CNBC Nightly Business Report, she asked me, "What is going to happen in the markets next week?" I replied, "It all depends on geopolitical events over the weekend."
For the week the D-J Industrials (INDU/16662.91) gained 0.66%, the economically-sensitive D-J Transports (TRAN/8264.12) improved by 2.12%, the D-J Utilities (UTIL/548.81) were up 1.13%, but the big winner was the NASDAQ 100 (NDX/3987.51) at a +2.56% gain. The week's biggest winning sectors were Healthcare (+2.32%), Information Technology (+1.75%), and Consumer Staples (+1.41%), while by my work the only two sectors currently oversold are Energy and Industrials. On the commodity front, all of the ones I monitor were down for the week save Corn (+4.01%) and Palladium (+2.31%). Yet within the bookends of the week there were some pretty interesting events. Japan's economy contracted at an annualized 6.8% rate; the U.S. Treasury noted that our budget deficit was "only" $95 billion; the EPA intends to close another 200 coal-fired electricity generating facilities; Libya's recently-appointed leader (Col. Mohammed Suwasysi) was assassinated leaving effectively no government operating in Tripoli; in the course of the last six months more jobs have been created in the U.S. than at any time since 2006 (but while U.S. job creation has soared, pay is 23% less); German 2Q GDP fell 0.2% causing German Bunds to briefly travel below 1%; French 2Q GDP was flat leaving France teetering on recession, France's finance minister warned that his country would no longer attempt to meet EU deficit targets; U.S. new mortgage loans fell to their lowest level since 2000; U.S. 2Q preliminary figures suggest further decline in Personal Income Taxes; Saudi Arabia and the U.S. are using crude oil as a weapon; Bill Gross is reducing his holdings of U.S. Treasuries; Iraq's Maliki stepped down; the NFIB Small Business optimism index recorded its second highest reading of the economic recovery; there are only 11 countries in the world that do not have some form of conflict; and the list goes on.
Susie also asked me about the message from the T'bond market, "Does the bond market have it right (recession), or does the stock market have it right (economic expansion)?" I told her that IMO the rally in U.S. treasuries is a flight to quality, as well as a relative yield play with the German Bunds at 1% and the U.S. dollar improving against the world's currencies. The other thing I related was that with the European economy appearing to be "slipping," and with the euro weakening vis-a-vis the U.S. dollar, it should drive European investment dollars into U.S. equities for multiple reasons. As well, most European accounts remain massively under-invested in U.S. stocks given that the benchmark they are compared to, the MSCI All Country World Index, has about a 48% weighting in U.S. equities.
For whatever reason, the SPX finally broke out above its 1940 – 1950 overhead resistance zone that has served as a ceiling for the past few weeks. While it was not a decisive upside breakout, and it was reversed on Friday's geopolitical gottcha, a breakout is still a breakout and has tilted the weight of the evidence towards my sense that a sustainable low happened on August 7th. Moreover, a trader's "buy signal" was triggered last week when the 14-day Stochastic traveled above its moving average. Also of interest was that despite Friday's Fade, "they" could still not break the SPX back below 1940. Accordingly, as I told Susie, this week we will put "rabbit ears" on for the world's geopolitical events, as well as four different housing reports, the CPI, PMI, LEI, Philly Fed (see chart 1), and the all-important Jackson Hole confab where Ms. Yellen will discuss the employment situation.
Turning to earnings, with the earnings season almost over, it's proven again to be better than the bears have suggested with 58.6% of ALL reporting companies beating estimates, while 60.7% bettered revenues estimates. As for sectors, Technology fared the best with a 68.3% revenue beat and 66.7% earnings beat rate. Healthcare was a close second at 66.7% and 63.0%, respectively (see chart 2). Drilling down into the Raymond James' Research Universe saw five companies beat earnings/revenue estimates and guide forward earnings expectations higher. These five have positive ratings from our fundamental analysts and screen positively on my proprietary algorithms. We offer them for consideration on your "shopping lists." They are: Advance Auto Parts (AAP/$131.47/Strong Buy), AmerisourceBergen (ABC/$76.33/Outperform), Monolithic Power (MPWR/$44.06/Outperform), Skyworks (SWKS/$54.39/Strong Buy), and UnitedHealth (UNH/$81.47/Strong Buy).
The call for this week: I am in Boston seeing portfolio managers and speaking at a couple of events, as well as a national conference. If past is prelude, my Boston sojourn will see some kind of dramatic action in the equity markets. My hope is that a sustainable low has been achieved on 8-7-14 and the subsequent action will be on the upside. If so, the rally that began a week ago should gain "legs" from the option expiration upside "squeeze" and the de-escalation of the Ukraine situation. A decisive breakout above 1950 would suggest at least a test of the all-time highs and likely more.
---
Additional information is available on request. This document may not be reprinted without permission.
Raymond James & Associates may make a market in stocks mentioned in this report and may have managed/co-managed a public/follow-on offering of these shares or otherwise provided investment banking services to companies mentioned in this report in the past three years.
RJ&A or its officers, employees, or affiliates may 1) currently own shares, options, rights or warrants and/or 2) execute transactions in the securities mentioned in this report that may or may not be consistent with this report's conclusions.
The opinions offered by Mr. Saut should be considered a part of your overall decision-making process. For more information about this report – to discuss how this outlook may affect your personal situation and/or to learn how this insight may be incorporated into your investment strategy – please contact your Raymond James Financial Advisor.
International securities involve additional risks such as currency fluctuations, differing financial accounting standards, and possible political and economic instability. These risks are greater in emerging markets.
Investors should consider the investment objectives, risks, and charges and expenses of mutual funds carefully before investing. The prospectus contains this and other information about mutual funds. The prospectus is available from your financial advisor and should be read carefully before investing.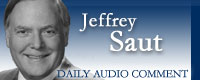 Jeff Saut's Daily Audio Comment is recorded every weekday, except Wednesday, at 9 a.m. ET. It is made available to the public on this Web page at approximately 1 p.m. ET.