When?!

June 29, 2015
The market, he had learned, was like the sea, to be respected and feared. You sail on its smooth surface on a placid mid-summer day; you were borne along by a favorable breeze; took a pleasant swim in its waters, and basked in the rays of the sun. Or you lolled in the quite currents and dozed. A cold gust of wind brought you to, sharply – clouds gathered, the sun had gone – there were flashes of lightening and peals of thunder; the ocean was whipped into seething waves; your fragile craft was tossed about by heavy seas that broke over its sides. Half the crew was swept overboard . . . you were washed upon the shore . . . naked and exhausted you sank upon the beach, thankful for life itself . . .

. . . "Memoirs of a Trader" from Liar's Poker by Michael Lewis
Now I wasn't naked, but Air Canada certainly washed me onto the shores of one of my favorite islands in the world a week ago Sunday, namely Vancouver Island. For those who don't know, Vancouver Island is huge at approximately 300 miles long, and 50 miles in width at its widest point, making the island the largest on the west coast of North America. My week began that night by having dinner with friends in the city of Victoria. I cannot tell you the feeling one gets when arriving there, not just because of the city's beauty and cleanliness, but the civility of its people. Indeed, civility is the glue that holds humanity together! Arriving in Victoria is like returning to an era gone by where life was easier and more fun. The next morning I met with about 25 very bright portfolio managers (PMs) and analysts at the BCIMC (British Columbia Investment Management Corporation), one of Canada's largest institutional investors, which invests on the behalf of public sector clients of British Columbia. From there it was speaking at a lunch for the Raymond James branch and their clients at the posh Oak Bay Hotel followed by another presentation at the branch. A helicopter ferried me from Victoria to Vancouver that afternoon where it was dinner with some PMs.
Tuesday began with four back-to-back one hour meetings at various money management firms. Around noon I met up with Raymond James Ltd.'s (our Canadian subsidiary) venerable equity strategist Ryan Lewenza to do a joint lunch presentation for clients with round two for us that night at the Vancouver Hyatt Regency to about 300 people. Wednesday, it was off to Kelowna, another slice of heaven in Canada's wine country, for Ryan and I to present at a lunch and then a dinner event at the Harvest Golf Club overlooking Lake Okanagan. After having a probing discussion with my friend, and brilliant portfolio manager, Craig White, it was off to dinner with the gang. Thursday found Ryan and me regrettably leaving Kelowna, but heading to another great Canadian city, Calgary, to see institutional accounts and to do two more presentations.
I chronicled last week's events not to bore you, but so that I could lump together many of the questions coming from both individual and institutional investors, because for the most part they were very much the same. As I have commented before, I find it interesting that PMs want to know what individual investors are thinking and doing, while individual investors want to know what PMs are thinking and doing. Quite frankly, one of the few differences between the two is that much of the investing public believes the only reason stocks are up is because of the liquidity the Fed has "thrown" into the system. To them I respond, "There is no doubt that has helped, but earnings have grown pretty well since their 2008 nadir." Then we get slammed with, "How can we be in a secular bull market with political dysfunctionality in D.C., no GDP growth, ISIS, Greece, Iran, North Korea, ad nauseam." The answer has been repeated by me so many times I almost hate to say it again, but here goes:
The equity markets do not care about the absolutes of good or bad, but only if things are getting better or worse; and, things are getting better.
Of course, the logical next question is, "If that's true, what about the lack of GDP growth?" Both Ryan and I believe the squishy first and probably second quarters are being driven by one-off events that should mitigate in quarters three and four when the GDP numbers normalize. In fact, you can actually sense this is going to happen given last week's economic reports. And while it didn't come from individual investors, the pros proceeded to ask about Warren Buffett's favorite valuation measurement, nominal market capitalization to GDP. Studying the chart shows valuations are rich by this measure (see chart on next page). However, the reason is because there is virtually no GDP growth. If GDP normalizes in the back half of this year, the attendant chart does not look nearly as expensive.
Then there was always the earnings question, or lack thereof. Hereto, earnings are expected to normalize next year with Standard & Poor's bottom up operating earnings estimate showing $133.38 for an earnings estimate versus 2015's estimate of $115.80. If correct, that means the S&P 500 (SPX/2101.49) is trading at a price earnings ratio (PE) of 15.8, which is darn close to its historic median PE of 15.5. Ryan and I would also argue the market's PE should be somewhere between 18 to 20, but that's a discussion for another time.
While there were many other questions, the ubiquitous final one was about Greece, which is slated to default tomorrow. For six years I have maintained, "Politicians, bureaucrats and bankers are the same in Europe as they are here. They do not want to lose their jobs and if the EU implodes, they all lose their jobs. Therefore if Greece needs another 'check,' Greece is going to get another 'check'." So far, that has been a pretty good call. Tomorrow, we'll find out if it remains a good call. I would counsel Greece, however, to carefully study what happened to Argentina when it defaulted. Recall, after many years of hardship, and after borrowing a lot of money from the IMF, World Bank, U.S., et al., the IMF withheld payments when Argentina failed to meet deficit targets and the default was on. Subsequently, there was a "run" on Argentine banks that was so severe the government had to freeze deposits, which in turn caused riots. The peso was dramatically devalued and all dollar denominated deposits were converted to the devalued peso, wiping out more than half of their value. The economy then fell into depression. Eventually, Argentina's commodity-centric economy recovered, but only because there was a surge in commodity exports. Greece, by contrast, is less fortunate in that it is heavily dependent on imports. Moreover, if Greece defaults and converts to its old currency (the drachma), private sector business would be crushed since many of their loans are from outside banks and are denominated in euros. Indeed, Greece should study the history of Argentina's default, but instead Greek Prime Minister (Alexis Tsipras) has called for a "snap referendum" to get European creditors to back down. Hearing that, many Europeans contend, "That has shut the door on any more talks!" Alas, the one thing we learn from history is that we don't learn anything from history.
The call for this week: Over the weekend there were Greek tweets about long lines at ATMs as the Greek tragedy approaches. This morning Greeks awaken to shuttered banks, capital controls, closed ATMs, and rumors of conspiracies as debt talks collapse leaving our preopening S&P 500 futures down about 23 points at 5:30 a.m. Recall that last Monday's strategy report stated, "While there are NO signs of a bull market top, my models/indicators suggest the short-term 'expansion phase' is over and a contraction phase will begin into the July 4th holiday." But remember, in the Chinese language the word "crisis" is composed of two characters, one stands for danger and the other opportunity.
---
Pickles?!

June 22, 2015
I have been traveling a lot recently and this week will be no exception as I am in Victoria, British Columbia currently and am leaving for Vancouver tomorrow. While traveling is exciting and educational, it is also exhausting. Moreover, sleeping in strange beds doesn't help the exhaustion factor. To be sure, I often find myself suffering from dyssomnia in a fitful sleep accompanied by some pretty strange dreams. Take Saturday night: I fell asleep around 10:00 p.m. dreaming of four sheep jumping over a fence. Then it was four pickles and then four women. The dream seemed to center on the recurring number four. Consequently, when I awoke I decided that the number 4 couldn't lose so I picked up the phone and placed a $444 bet on the forth horse in the fourth race. Later that day I called back to find out the results of said race only to hear that my horse had lost, but had come in fourth. "Well, who won?" I inquired. "Pickles" was the response!
Similarly, many stock market participants seen to currently be dreaming about 7-come-11, which is the winning "come out" roll of the dice on a crap table. And from my perspective, this mindset has given the biotech complex the appearance of a casino. Indeed, each morning when the "casino" opens, it's as if the dealer is saying, "Ladies and Gentlemen, place your bets." Recently, those "bets" have been getting more and more speculative as seen by the volume and tremendous price acceleration (Chart 1). Moreover, on Friday my Bloomberg machine showed more than one-third of the percentage gaining stocks were in the biotech space. Even more to this speculation point is that most of those biotech names were under $10 per share. Clearly, speculation is back on the Street of Dreams and it reminds me of an era gone by when, like now, we were living in a low interest rate world. The era was the late 1960s where any company whose name ended with "onics" traded towards the moon. I called it the great garbage market where the investment strategy du jour was hold your nose and buy. Back then, the environment was surrealistic with an increasing aura of detachment and unreality. Of course, many of the old fogies of the day, who had experienced previous bear markets and were consequently managing their risk, were accused of losing their nerve and subsequently were replaced with a new breed of young money managers that had no fear. Those of us who remember that era know how it ended ... and it ended badly. While seasonality continues to favor the biotechs, with the index advancing from mid-June to mid-September in 20 of the past 23 years, I would choose my biotech names very carefully, trying to emphasize those companies that are actually making money.
While there is clearly speculation in the biotech space, there is not such speculation in the overall stock market. In last Friday's Morning Tack I shared an email from one of our particularly insightful Financial Advisors (Peter Muckerman) who wrote:
I have been buying the Barron's every Saturday for the last 20 years, and the local grocery store where I buy it only orders about 5 of them. They are never sold out and what's possibly more interesting is that they have stopped carrying the IBD. Now, I find this to be somewhat interesting only from the respect of the public's lack of interest in the stock market.
You can see this lack of bullishness in Chart 2. Peter went on to note:
Also, this is profoundly interesting since one of the panelists speaking up on the Hill in regards to the recent "DOL Proposal" noted that: "some 50% of all TSP money is sitting in the G Fund." Now, that is striking to me, and it tells me: 1) They have gotten no advice, 2) Has the Government failed in their own fiduciary responsibility to educate their work force?, 3) the general public still hates the stock market, and 4) The market has further to run on the upside.
To clarify I wrote:
Now I lived in the D.C. area for years and therefore am familiar with many of the acronyms. But for those of you that are not, DOL stands for the Department of Labor and the DOL proposal would change the way investment advice is given for retirement accounts. On Tuesday a House bill was introduced to stop the DOL's proposal to change investment advice standards for retirement accounts. TSP is the acronym for Thrift Savings Plan, and the G Fund is basically a Treasury-centric money market fund. Now that we have the acronyms right, we can better understand Peter's point. The investing public has very little interest in stocks, which is yet another reason we are a long way from the end of this secular bull market.
On Friday, however, the S&P 500 (SPX/2109.99) failed to follow through on its upside breakout above 2115. This type of action has been frustratingly endemic this year as the SPX is up one day and down the next as can be seen in Chart 3 where the green bars represent "up" days and the "red" ones down days. Yet, while indices like the Dow and S&P have pretty much flat-lined year to date (YTD), the Russell 2000 (RUT/1284.66) has held its uptrend lines and gained 6.64% (Chart 4). Yes, I know the Russell MidCap and SmallCap Indices are expensive on a Price to Earnings, Price to Book, Price to Forward Earnings, and Price to Cash Flow basis, but they are working on the upside despite being 1.5 to 2 standard deviations above the norms (Charts 5 and 6). I think the reason they are working is because, in a low earnings growth environment, small/mid-caps for the most part are delivering decent earnings growth. Additionally, many individual mid/small-cap names are not all that expensive.
The call for this week: Historically, the week after the June "witch twitch," the Dow has been down an average of 1.1% and has fallen 22 of the last 25 years, according to The Stock Trader's Almanac. Friday's failure to follow through on Thursday's rally only reinforces the probability for more consternations this week. It is also worth mentioning that the recent new highs in some of the major indices have been unconfirmed by new highs in the normal and Operating Company Only Advance/Decline lines, and as well that the spread between the Demand (read: buyers) and Supply (read: sellers) lines is at the narrowest point since the mid-October of 2014 lows (we were bullish). While I do not think Supply will cross above Demand (read: negatively), it is an indicator worth monitoring closely. It is also worth noting that the SPX has tested, and held, its recent intraday reaction low of 2072 twice, which is 2 standard deviations below its 50-day moving average. In the process, the SPX has formed what looks to be a "W" trading bottom in the charts. Whether that means anything in this Greek Gotcha' market environment is debatable. Plainly all eyes will be on Greece again this week given next week's debt deadline. I continue to believe a last minute deal will come to "kick the can" further down the road, giving folks time, that will likely be squandered, to come up with a workable solution. Meanwhile, there are NO signs of a bull market top, but my models/indicators do suggest the short-term stock market "expansion phase" is over and a contraction phrase will begin this week into the July 4th holiday. Stay tuned ...
---
Rescue me

June 15, 2015
"Rescue Me" is a song sung by Fontella Bass in 1965. The song's refrain is "Come on, baby, and rescue me. Come on, baby, and rescue me," a refrain that currently needs to be played on the Street of Dreams. I thought of the song while reading a story about the rescue of a 375-pound black bear here in Florida. It seems the bear wandered into a residential neighborhood and the wildlife officers attempted to sedate him in order to safely relocate him. The bear, however, went into a panic and ran into the water. As he swam further out, the tranquilizer began to somewhat take effect and he started to drown. Officer Adam Warwick was not about to let that happen. He jumped into the water and swam to the bear knowing it was a high risk move since the bear could kill him with one swipe of his claws. Undeterred, Adam grabbed the bear around the neck to keep his head above water and slowly began swimming towards shore. Amazingly, the bear seemed to know he was in good hands and relaxed. Upon arriving in shallow water the rest of the team showed up and placed the bear into the shovel of a front end loader, hoisting the bear into a truck to be taken back to the Osceola National Forest. Adam rode with the bear in the back of that pickup truck all the way to the forest, where the big guy was released and is believed to be happy and safe. You can see the episode here.
Similarly, the stock market needs to be rescued from the "bear" as the S&P 500 (SPX/2094.11), after a feeble rally attempt, has again retreated into the 2090 – 2100 support zone. Recall it was early last week when the SPX knifed through that support level, falling to an intraday low of roughly 2072 where a number of "finger to wallet" indicators registered extreme oversold readings. The result was Wednesday's sharp throwback rally (+236 Dow points), which wasn't anticipated, but nevertheless carried the SPX into the overhead resistance zone between 2110 and 2120. We did anticipate that level would cap the rally and said so in last Thursday's verbal strategy comments. To wit:
"[Wednesday's] Dow Wow used up a lot of the stock market's internal energy on a short-term basis. Still, it looks like there will be a muted upside follow through this morning, but I don't expect it to get very far. Somewhere between 2110 and 2120 for the SPX ought to be IT on a short-term basis, if it can even get that far. Next week, however, should be another story as the stock market's internal energy gets rebuilt." Well, Thursday's intraday "print high" was 2115.02, exactly in the middle of that resistance zone! I continued by stating, "This morning the preopening S&P 500 futures are flat on no real overnight news. So far this has been a bullish consolidation, but today looks to be sideways to down. Next week, however, should see higher prices."
That "sideways to down" comment proved to be quite an understatement as the senior index lost 140 points on Friday. Subsequently, I did what I normally do on such days. I called various portfolio managers (PMs) to talk about the markets and try to glean some investment ideas. One of the PMs I called was Mary Lisanti. Mary is a longtime friend, and a great growth stock picker, who only buys small cap growth stocks that are growing by at least 30%. She used to manage the AH Small Cap Growth Fund, which I own, but recently there has been a change in ownership. Now that same fund is titled The Lebenthal Lisanti Small Cap Growth Fund, although the ticker symbol did not change (ASCGX/$20.91). I have heard the name Lebenthal for decades and have always associated it with high quality people, but more of a municipal bond house than a stock firm. However, in talking to Mary I come to find out they have been an equity manager for years. The association with Lebenthal has permitted Mary's fund to become partners with Raymond James, but I digress.
Our conversation began with my question, "What do you like?" Mary responded that she likes a number of the home builders, believing business will strengthen in the back half of this year and really take off in 2016 (I agree). She also likes the repair and replace space, as well as technology. I said, "But your small cap universe is pretty expensive at a P/E, price-to-book, price-to-forward earnings, and a price-to-cash flow of between 1.5 to 2 standard deviations above the norm." Mary said while that's true for the aggregate indices, many small cap stocks are not all that expensive. I added, "Probably in a low earnings growth environment investors are willing to pay up for true growth and many of the small/mid-cap companies continue to deliver excellent earnings growth."
Her largest portfolio weighting is in Technology (~26%), her next largest weighting is in Healthcare (~24%), especially Healthcare Services. She thinks under Obamacare home healthcare stocks could once again become growth stocks. Somehow we got to talking about Raymond James' new Specialty Pharmaceuticals analyst, Elliot Wilbur, who Mary said is the best analyst in the space. With that, I told her that I had recently bought shares in a company Elliot covers called Lannett (LCI/$56.95/Outperform), which is a stock that Mary also owns. Our analyst writes, "Lannett Co. Inc. is a fully integrated pharmaceutical company that develops, manufactures, and distributes generic and specialty branded pharmaceutical products in the U.S. The company is one of the oldest generic drug manufacturers in the U.S." Mary adds, "LCI has a very experienced management team that copies drugs (generics) just as they are coming off patent. And, I think the FDA is becoming much better about fast tracking drug application now that Obamacare is pushing more people towards generics."
The conversation ended with Mary saying, "There are a lot of very attractive little banks." And, boy do I agree with that statement, having written about the KBW Bank Index (BKX/$71.39) breaking out to the upside from a Brobdingnagian base in mid-May (see chart on page 3). Of course one of the reasons for said strength is the steepening of the yield curve, which is very beneficial for banks. A few of the smaller capitalization names from the Raymond James research universe, which are positively rated by our fundamental analysts and screen well on my algorithms, include: C1 Financial (BNK/$18.77); Meta Financial (CASH/$42.31); and Yadkin Financial (YDKN/$20.00), which are all rated Strong Buy by the covering analyst; and Legacy Texas Financial (LTXB/$29.67) and Wilshire Bancorp (WIBC/$12.21), which are each rated Outperform.
The call for this week: Friday's weakness is lingering into this morning with the preopening S&P futures down about 6 points at 6:00 a.m. as word spreads that the European Union is preparing for a "state of emergency" after the Greek debt talks collapsed. Consequently, all eyes will be focused on Greece this week, as well as words from the Fed. My work continues to suggest there should be some stabilization by mid-week, but that will likely depend on Greece. If this is a "selling stampede" they typically last 17 to 25 sessions with only one- to three-day pauses or rally attempts before they exhaust themselves. Today would be day 15.
Additional information is available on request. This document may not be reprinted without permission.
Raymond James & Associates may make a market in stocks mentioned in this report and may have managed/co-managed a public/follow-on offering of these shares or otherwise provided investment banking services to companies mentioned in this report in the past three years.
RJ&A or its officers, employees, or affiliates may 1) currently own shares, options, rights or warrants and/or 2) execute transactions in the securities mentioned in this report that may or may not be consistent with this report's conclusions.
The opinions offered by Mr. Saut should be considered a part of your overall decision-making process. For more information about this report – to discuss how this outlook may affect your personal situation and/or to learn how this insight may be incorporated into your investment strategy – please contact your Raymond James Financial Advisor.
International securities involve additional risks such as currency fluctuations, differing financial accounting standards, and possible political and economic instability. These risks are greater in emerging markets.
Investors should consider the investment objectives, risks, and charges and expenses of mutual funds carefully before investing. The prospectus contains this and other information about mutual funds. The prospectus is available from your financial advisor and should be read carefully before investing.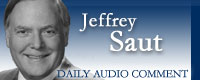 Jeff Saut's Daily Audio Comment is recorded every weekday, except Wednesday, at 9 a.m. ET. It is made available to the public on this Web page at approximately 1 p.m. ET.
Andrew Adams, Research Associate to Chief Investment Strategist Jeff Saut assists with the Daily Audio Comment, as well.