Random thoughts on a cruise to nowhere

January 26, 2015
We have lost our way as a people and a country when we ignore and/or fail to see the significance of history. King Abdullah and his father King Abdul Aziz al Saud were titans of the modern day middle east that so affected us all. I read about his death in the B section of the local paper after a story about our local nursing home under new management. God, Allah, Adonai ... please help us all.
I received the aforementioned quote early Friday morning as I was contemplating the death of Saudi King Abdullah and the potential collateral damage it could cause from a change in Saudi leadership. Our emailer was exactly right, "King Abdullah and his father King Abdul Aziz al Saud were titans of the modern day middle east that so affected us all." They were "moderates" in an area of the world that is awash with anything but "moderates." Speaking to Saudi Arabia, and its ability to influence the price of oil, in past missives I have written about the real reason the Saudis have "leaned" on the price of crude oil. It began last summer when Saudi Prince Bandar bin Sultan, Director General of the Saudi Intelligence Agency, went to Russia and asked Vladimir Putin to stop funding Iran and Syria's Bashar Hafez al-Assad, and he was snubbed. In retaliation, the Saudis decided to use the only real weapon they have – crude oil – to punish Russia, ISIS, Iran, and Venezula by crushing the price of oil. The second derivative benefit would be to damage the U.S. fracking industry. With the King's death, one wonders what the new leadership will do with the price of oil as Yeman decends into chaos?
Speaking to crude oil, and the price decline's impact on energy companies' earnings, over the past few weeks Standard & Poor's has lopped roughly $11 worth of earnings from this year's S&P 500 (SPX/2051.82) earnings estimate. Verily, two weeks ago the bottom up, operating earnings estimate was ~$134. As of last week it was $122.74. When quiered about that, someone at S&P had this to say (as paraphrased):
The S&P 500's 2015 operating estimates have declined 11.27% from the end of June, and are off 5.36% excluding Energy. Energy estimates have declined 53.04% for 2015 from June 2014. Energy was expected to contribute 12.40% of the S&P 500 earnings in 2015 (back in June 2014), and is now estimated to contribute 6.56%. Energy earnings are now expected to post a 39.07% decline in 2015 over 2014, with 2014 already being reduced for Q4:14. In June 2014 the estimate was for a 21.29% gain over 2014. Note that energy estimates need to incorporate oil's price movement over 2015, so analysts are making estimates on the volatile price of oil. It appears, from the conversations and observations (not quantifiable data) with in house economists and strategists, those analysts may be using the various economists'/strategists' projections to make their estimates (which seems logical). But note, the oil estimates do not seem to be uniform (shocker). So my question is, if the U.S. economy is still on solid ground (with rising GDP), are the non-energy estimates overblown and reactionary, without adding in any of the potential benefits from consumer spending or industrial savings brought about by lower gasoline prices?
Such thoughts prompted a string of email exchanges among some of Wall Street's best and brightest like this:
We don't have a good figure for break-even fracking prices. I've talked to oil folks in the Bakken who say there are wells that are in the $30 range. Given the range of breakevens, we're not talking about a total stop to fracking; rather, a decline in the second derivative – the rate of increase. Wells in production will remain so, requiring ongoing employment in oil field services and associated jobs. The drop in oil prices should boost spending in other sectors of the economy, leading to increased hiring in those sectors. Autos, for example, if cheaper gasoline encourages more car sales, or more driving that leads to service station hiring. The stronger dollar that is helping pressure oil prices will cost export jobs, but likely lead to jobs in import industries. Declining jet fuel prices may lead to lower airfares, ultimately increasing tourism employment. The total number of jobs created by fracking and associated hiring is small in the context of overall employment, so the possibility for offsets is high. All of this, and more, would need to be plugged into a model to get a good picture of the impact of prices. I haven't seen such a model yet.
Of course that quip brought this response from another one of Wall Street's brightest:
That's great, but if I can get back to the original point, the question is whether the oil decline, like the housing bust, arrests the broader economic recovery. There was a chart at the time, call it 2006, put together by Goldman Sachs that showed U.S. economic growth if one removed the broader effects of mortgage equity withdrawal. The chart showed that the U.S. was (more or less) in recession during the entire 2000-2005 period. I imagine when one says "all of the job growth since X period is because of oil," they want to make a similar point; the underlying economy is in recession except that recession is masked by gains in one particular sector. That's the reason the Manhattan study cited by Peter is so prominent; it reinforces this narrative. I'm just one guy, but my analysis doesn't bear this out. I think a much more convincing argument is that the recovery is predicated on low interest rates and if/when they get around to moving higher, the economy simply won't be able to withstand rates above say 3%. This is the whole idea behind the lower terminal funds rate debate and, to some degree, secular stagnation as well.
Clearly an interesting discussion, but it is not just what is happening in this country that has been interesting over the past few weeks. First, it was the Swiss National Bank (SNB) abandoning the cap on its currency. At the time I wrote that move was a sign the Swiss were anticipating that Mario Draghi was going to announce quantitative easing (QE). Bingo, roughly a week later Draghi did just that. Second, while those were the two headliners, almost unreported were interest rate reductions by the Reserve Bank of India, the Danish Central Bank, and the Bank of Canada. Third, while they didn't cut rates the Bank of Japan, the Bank of England, and the People's Bank of China have all also done some interesting things over the last two weeks. Of course such central bank shenanigans caused the world's currencies to fluctuate wildly with concurrent swings in various world equity markets. Last Thursday our markets danced higher on Draghi's QE revelation, leaving the D-J Industrial (INDU/17672.60) better by 259 points, while the SPX spurted 31 points. On Friday, however, investors worried about such shenanigans, leaving the SPX lower by 11 points. Obviously these types of gyrations make it difficult to navigate our markets. For example, I have rarely seen the indicators I use so aligned for a move to the downside as they were going into last Thursday's trading day. And then BANG, the Draghi QE liquidity announcement caused stocks to soar. Over the weekend I spent hours poring over my indicators and came away with the same results I saw late last week, they are confused. I guess the SPX is confused as well since it has basically been locked between its support level of 1990 – 2000 and its overhead resistance zone of 2060 – 2080 since late October 2014. I have learned the hard way when confused it is best not to do much in the stock market.
The call for this week: Well, I am pulling back into the dock as I listen to the news that Greece leans to the left with the potential for an exit from the EU. That should have the preopening futures lower in the morning. I would note there is a full charge of internal energy built up in the equity markets, but they remain in limbo. A breakdown below 1990 would be pretty bearish, while an upside breakout above the 2060 – 2080 level would be bullish. Until one of the levels is breached ... to everything churn, churn, churn. There is a reason churn, churn, churn. A time to win, a time to lose, a time to stand around and be confused.
---
Rocky Horror Picture Show

January 20, 2015
"Do you think I made a mistake splitting his brain between the two of them?"
... Frank from Rocky Horror Picture Show
"Rocky Horror Picture Show" was a satirical film production done as a tribute to the science and horror "B" movies of the late 1930s through the 1970s. I was reminded of the flick last week when one portfolio manager I saw in Fort Lauderdale said to me, "The first few weeks of the New Year have been an absolute horror show!" Horror indeed, for in those weeks the D-J industrial Average (INDU/17511.57) has traveled nearly 3100 points as measured by its movement between the intraday highs and lows. That caused another Wall Street Wag to lament, "Periods of low volatility have always been followed by periods of increased volatility (see chart 1, on page 3)." Surprisingly, however, the senior index is still within 1.75% of its December 31, 2014 closing price. The frantic movements are kind of like rocking in a rocking chair, lots of motion getting you nowhere. Yet, readers of these missives should not have been surprised by what has transpired year to date.
Recall that late last year we said (as paraphrased), the timing models that have served us so well this year are indicating a rocky start for the New Year. Accordingly, if you have stocks in your portfolio that have not rallied in the straight up move beginning in June of 2012 (that just happens to be when the low volatility began), you may want to consider selling them and raise some cash for opportunities that should present themselves in the first few months of 2015. So far that has been decent advice. So what's happening now with the stock market?
Well, in last Thursday's Morning Tack we wrote, "Look for some kind of trading low, but I don't trust it." And with that statement my email box lit up with the question asking me to expand on that statement. Since I was slammed last week between speaking at events in South Florida and seeing accounts, my colleague Andrew Adams wrote Friday's Morning Tack and I did not get the chance to elaborate, so I will do so this morning. Given the "black swan" event last Wednesday when the Swiss National Bank (SNB) unpegged the Swiss franc, the S&P 500 (SPX/2019.42) swooned early Thursday morning and in the process tested the lower end of its 1990 – 2000 support zone. That left a number of indicators very oversold and a trading rally was to be expected. I told folks on Thursday I thought the logical upside target would be the S&P's 2030 – 2040 overhead resistance zone, but following such a rally I expect the SPX to begin another leg to the downside. Hereto, the first part of that "call" has been okay given Friday's Fling.
The reasons for the strength in the equity markets Friday, over and above the oversold condition, were the rumor mongers. First was a rumor the Fed had called an emergency meeting in reaction to various financial casualties caused by the SNB's unpegging of the Swiss franc. The thought was the Fed would supply some sort of liquidity to the system. The second rumor was that there has been a modified quantitative easing (QE) program worked out that is acceptable to Germany. The third rumor was along the same line in that the SNB's action almost assures the implementation of some sort of QE announcement at this week's European Central Bank (ECB) meeting, and that rumor has a ring of truth to it. Verily, the SNB's franc surprise looks like a preemptive move, suggesting the Swiss fully expect a QE announcement at this week's ECB meeting. It also suggests the ECB is going to monetize the European debt, which should raise inflation expectations, putting a tailwind in place for precious metals. While I am still not a fan of the metals, or commodities in general, a QE announcement could produce a decent short-covering rally given the oversold relationship between crude oil and gold (chart 2). A QE announcement could also have a "flight to quality" move for our Treasury bond/note markets and maybe that's why the 10-year Treasury note's yield is below the dividend yield of the S&P 500. In my notes I could not determine how often that has happened, but my guess was not often so I dialed up my friends at the brainy Bespoke organization and queried Paul Hickey and Justin Walters for the answer. Here's their response (as paraphrased):
From a long-term perspective, situations like the current one where the S&P 500's dividend yield exceeds the yield on the 10-year Treasury are quite rare. In fact, going back to 1962 there was only one day (6/22/62) prior to 2008 where we saw a similar situation. As the chart illustrates, from that one day in 1962, the yield on the 10-year U.S. Treasury remained above the yield on the S&P 500 for 46 years up until November 2008 (see chart 3 on page 4). ... [Chart 4, on page 5] provides a comparison of the S&P 500 to the dividend yield/Treasury yield spread going back to 2008. From purely a visual perspective, these moves of the spread into positive territory have been positive for the forward returns of the S&P 500 occurring right around the lows of 2009 and again beginning in August 2011, when the U.S. had its AAA credit rating cut by Standard and Poor's. Now, just again this week, the spread once again moved into positive territory.
The table below (chart 5) lists each time since 1962 that the spread in yields between the S&P 500 and the 10-year Treasury moved into positive territory after not having done so for the last six months. For each period, we list the first day the dividend yield exceeded the yield on the 10-year, and then show the performance of the S&P 500 over the following one, three, six, and twelve months. As the results illustrate, each of these prior instances were great times to buy equities. Following each occurrence, the S&P 500 saw consistently positive returns, with a median gain of 7.8% just one month later to a median return of 33.4% over the following year. While these past performances don't guarantee similar returns going forward, they are pretty compelling.
As an aside, for market history buffs, the 6/22/62 yield inversion was a result of the President Kennedy steel crisis whereby the steel companies increased prices and the President confronted that price raise with a resulting Dow Dive from 700 to 535 (-23.6%), but I digress. Consistent with the message from the good folks at Bespoke, we think the equity markets are working themselves into a good "buy spot." Unfortunately, the "buy spot" probably does not arrive until February or March. One stock, however, that may have worked its way into a "buy spot" is Iridium (IRDM/$8.84/Strong Buy) on the fallacious news of a competing technology. For the complete story, please see our fundamental analyst's recent company brief, here.
The call for this week: On network TV last Friday I was asked, "Jeff, what's the next 'black swan' event?" I responded, "By definition a 'black swan' event is something unexpected, so how can you predict one?" On further thought, however, Crimea's recent vote to become a nonaligned country (that is, nonaligned with Russia), while not a vote to align with NATO, is certainly a step in that direction. How Vladimir Putin responds could indeed give us a "black swan" event. This morning the S&P futures are higher (+6) on better than expected Chinese economic data, which has also stabilized crude oil. However, it is all about the ECB this week.
---
Boston

January 12, 2015
Please come to Boston for the spring time.
I'm stayin' here with some friends
And they've got lots of room.
You can sell your paintings on the sidewalk
By a cafe where I hope to be workin' soon.
Please come to Boston.
She said, "No
Would you come home to me? "
... Dave Loggins (1974)
Singer-songwriter Dave Loggins wrote "Please Come to Boston" in May of 1974 and the song was nominated for a Grammy Award in the category Best Male Pop Vocal. And, last week that is exactly what I did, please come to Boston. It was cold and snowy in Bean Town with winds gusting to 35 knots. Nevertheless, I always enjoy that city and last week was no exception. Monday began with a visit to Fidelity where I first met with Sean Gavin, who is the portfolio manager of the Fidelity Advisor Equity Value Fund (FAIVX/$16.04). The fund tends to be a large capitalization value fund, as can be seen by looking at the top holdings. Some of the names in the fund we discussed, and that have favorable ratings from Raymond James' fundamental analysts, were: Oracle (ORCL/$43.39/Outperform); Chevron (CVX/$108.21/Outperform); and Johnson & Johnson (JNJ/$104.94/Outperform). Historically the fund has a high upside capture ratio and low downside capture, which is intuitive when you look at its holdings. Our discussion touched on many subjects, but the comment from Sean that stuck in my head was, "The Fed may just stay looser for longer than most expect." That was really interesting to me since I have written the Fed could be the wildcard this year. Indeed, if the Fed raises interest rates too fast it could cause a P/E multiple contraction with a concurrent "hits" to equities. However, if the Fed stays looser for longer, 2015 could turn out to be a better year for stocks than 2014.
I also met with Naveed Rahman, a portfolio manager that is keenly focused on dividend-paying equities. Hereto, his comments rang true with me since I believe dividends are hugely impactful on the total return in portfolios. Historically the S&P 500 (SPX/2044.81) has returned roughly 10.4% per year since the 1920s. Five percent of that return comes from earnings growth and 0.9% comes from P/E multiple expansion. But a large 4.5% comes from the compounding of dividends. Moreover, dividends give investors a downside cushion in the event of a stock market correction. Naveed also consults with James Morrow, who is the portfolio manager of the Fidelity Equity Income Fund (FEQIX/$58.67) that in an era gone by used to be captained by Bruce Johnston, one of the most successful investors of our time.
Over lunch I met with Dirk Hotschire, who is the head of Fidelity's asset allocation team. He talked about more divergences between policy and economic conditions. He noted that Europe is at a mid-cycle slowdown and the rest of the world's slowdown is going to cap the U.S. growth rate and keep interest rates low. Dirk also believes, as do I, the U.S. dollar is going to remain strong and that emerging markets tied to the Chinese growth story will continue to struggle. Longer term, he thinks the U.S. is in an economic uptrend, but there will be more divergences and volatility. Hereto, one particular comment stuck with me. To wit, Dirk said, "Because the 2008 – 2009 financial fiasco was so devastating, it will keep the U.S. in a mid-cycle position for a lot longer than normal before we transition to a late-cycle position." For investors this is very good news because it extends the investment cycle whereby mid-cycle investments in the technology and the industrial sectors should continue to be overweighed. Dirk also mentioned that after the first interest rate hike it has typically taken two years, on average, before the U.S. transitions to late-cycle, which is where economic growth moderates, credit tightens, earnings come under pressure, economic policy contracts, inventories grow, and sales contract. Later that day I did a video with my friend Claus te Wildt, who is the "voice" of Fidelity, as we discussed themes for 2015. That evening was dinner with Claus at a new restaurant in the seaport district of Boston called Bastille Kitchen that was excellent.
After sloshing through the snow and wind, I then arrived at Columbia Management to meet with David King, portfolio manager of the Columbia Convertible Securities Fund (PACIX/$18.77). I have talked with David before and always found the exchange illuminating. In our meeting the point that stood out was that there is a once in a lifetime opportunity to buy the "broken debt" in the energy complex. To be sure, some of the companies that have seen their bonds decline to fifty cents on the dollar, with yields that are current and approaching 14%, have very decent risk/reward ratios. Investors can either contact their financial advisor for ideas along this line, or they can just buy David's fund.
My next stop was Putnam for a meeting with Bill Kohli and Jerry Sullivan. Bill manages the Putnam Diversified Income Trust (PDINX/$7.54), which I own, and Jerry manages the Putnam Investors Fund (PINVX/$21.76) and the Putnam Multi-Cap Core Fund (PMYAX/$17.49), which I also own. Bill noted that German yields were negative for bonds maturing in less than six years, implying there are not many German bonds for Mario Draghi to buy. He also thinks the directional "call" on crude oil is difficult in that it's not how low oil prices will trade, but that how long prices will stay low. He further opined most oil companies have 18 months of cash flow coverage to pay their debt and that Venezuela has 18 months of cash to cover its short-term debt obligations. In the foreign debt markets he likes Venezuela, Argentina, and believe it or not, Russia.
The call for this week: I had numerous other meetings in Boston, but time constraints will not permit me to elaborate. As for the stock market, in last Friday's Morning Tack I wrote:
Granted yesterday's rally was impressive, but I am going to stick with my indicators that still suggest a rough patch for the first few months of the New Year. If those indicators are wrong, I will adjust my views. But until then, I am dancing with the "date that brought me here." And, I will leave you with this from one of the BEST strategists on Wall Street who wrote, "[The] weight of the evidence suggests the bull market has embarked on a broad topping process that could take its time." While I continue to think the secular bull market is alive and well, the near-term directionality is questionable.
This morning, however, the preopening S&P futures are better by 12 points on M&A activity, rumors quantitative easing will be introduced next week in Europe, and Saudi Prince Alwaieed's statement that, "You will not see $100 a barrel oil again," leaving crude oil down to $47 per barrel. So we knifed trough the 2030 – 2040 level I thought would contain the rally and then extended into the 2060 – 2080 overhead resistance for the SPX. Subsequently, last Friday we pulled back into the 2030 – 2040 zone, which has now become support. This morning it looks like we are going to try the upside once again, but unfortunately I do not think we are out of the woods quite yet.
---
Additional information is available on request. This document may not be reprinted without permission.
Raymond James & Associates may make a market in stocks mentioned in this report and may have managed/co-managed a public/follow-on offering of these shares or otherwise provided investment banking services to companies mentioned in this report in the past three years.
RJ&A or its officers, employees, or affiliates may 1) currently own shares, options, rights or warrants and/or 2) execute transactions in the securities mentioned in this report that may or may not be consistent with this report's conclusions.
The opinions offered by Mr. Saut should be considered a part of your overall decision-making process. For more information about this report – to discuss how this outlook may affect your personal situation and/or to learn how this insight may be incorporated into your investment strategy – please contact your Raymond James Financial Advisor.
International securities involve additional risks such as currency fluctuations, differing financial accounting standards, and possible political and economic instability. These risks are greater in emerging markets.
Investors should consider the investment objectives, risks, and charges and expenses of mutual funds carefully before investing. The prospectus contains this and other information about mutual funds. The prospectus is available from your financial advisor and should be read carefully before investing.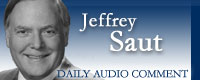 Jeff Saut's Daily Audio Comment is recorded every weekday, except Wednesday, at 9 a.m. ET. It is made available to the public on this Web page at approximately 1 p.m. ET.