Thanksgiving Recipe

November 24, 2014
Begin with a turkey "chilling" in a sink for a few hours (see exhibit 1). Mix in the Bank of Japan's "shock and awe" announcement of a week ago. Add the U.S. unemployment claims that are at a 14-year low and stir well, include housing prices that are better by +6%, fold in the Leading Economic Indicators advancing by 7%, the ECB announcement by Draghi about a "bazooka" of Quantitative Easing (QE), and the Thanksgiving dinner result . . . new highs for equity prices! I have hinted of this Thanksgiving "dinner recipe" rally since returning from a two-week trip to Europe where I spoke to many portfolio managers (PMs), although I did not think the rally would begin before this holiday-shortened week. Interestingly, all the PMs wanted to discuss was the U.S. equity markets and Emerging Markets (EMs). I told them I thought Draghi's announcement of a trillion euro QE should have sparked "long" positions in the WisdomTree Hedged Equity Fund (HEDJ/$58.37), where the euro currency exposure is hedged out, but none of them wanted to listen to that idea. Accordingly, over the past three weeks there has been a record inflow into U.S. equity funds from foreign investors (see exhibit 2). Certainly the seasonality has a bullish tilt to it and I have learned the hard way that it is difficult to sell stocks off during the ebullient period between Thanksgiving and Christmas. Actually, that is not entirely true, because the first part of December has been subject to weakness. However, since 1950 the month of December has been an up month 48 times, and down only 15 times, with an average gain of 1.7% by the S&P 500 (SPX/2063.50). Thanksgiving week also has a bullish bias with a gain for the week of +0.64% two-thirds of the time.
Speaking to these points, last Friday I did a "hit" on CNBC with a gentleman who was in love with his own voice, because he over talked all of his points despite the sagacious Kelly Evans trying repeatedly to interrupt him. One point he kept trying to make was how the equity markets have been "financially engineered," something termed "zaitech" by the Japanese in an era gone by. Ladies and gentlemen, we are not in an environment of zaitech, despite his claim. His words were reminiscent of another gentleman a few months ago that created quite a stir by suggesting the stock market is "rigged." While last Friday's CNBC guest sounded smart, he is totally wrong about zaitech. I do, however, think he is right about the secular bull market extending for many more years, but I do not think it is because of "financial engineering!"
Given last Friday's surprising "two step," many pundits are trying to spin Draghi's statement into some ominous warning that Euroland is falling into a depression. I am not one of them, so here is what he said (as paraphrased):
There was no sign of economic improvement in the months ahead and the ECB would step up its program to pump more money into the currency bloc if its current measures fell short of lifting inflation.
While Draghi's comments were a bullish surprise for world markets, the real surprise came from China. Indeed, the People's Bank of China said it is cutting the one-year benchmark lending rate by 40 basis points to 5.6% and lowering the one-year benchmark deposit rate by 25 basis points. Hereto pundits attempted to infer this proves that China is in trouble. My comments to the media were not as dire. To wit, I think this may not have a large impact on China's GDP growth, unless policymakers also let the rate of credit growth increase. I also think the REAL question is if this is a "one off" rate cut, or is it the beginning of a series of rate cuts? Only time will answer that question, but the world's equity markets surely like it because early Friday morning markets exploded. This can be seen in the SPX's early ~20-point pop. Of course, some of the upside fireworks were accentuated by last Friday's option expiration, which was surprising in that the equity markets did not close at the session's highs.
As most of you know, I watch Buying Climaxes and Selling Climaxes. A Selling Climax is when an individual stock trades to a new 52-week low, and then closes near/at that session's intraday high, and that closing price needs to be above the previous Friday's closing price. A Buying Climax is the exact reciprocal. Back at the October 15, 2014 lows, there were more than 600 Selling Climaxes, which was the most Selling Climaxes since the October 5, 2011 oversold low that led to a 26% rally. Likewise, the NYSE McClellan Oscillator was reflecting a deeply oversold condition at the time. Last week, despite the roughly 24-point gain for the SPX, there were only 126 Buying Climaxes and the NYSE McClellan Oscillator was not overbought. Meanwhile, my indicator that measures the equity markets' internal energy has almost recovered a full charge of energy. As stated last Friday, while my model suggests that energy will be released on the downside, I just do not believe it given the bullish seasonality.
As for my sense that over the past two weeks crude oil is in a bottoming phase, I still feel this way and would note the January Crude Oil future's contract closed above its 10-DMA last week for the first time in quite a while. Also of interest is that "smart money" Continental Resources (CLR/$56.90/Outperform) sold all of its downside futures' contract hedges, for a $433 million dollar gain, betting that oil is in the process of bottoming. To this point, my colleague Andrew Adams has compiled a great "slide deck" discussing the current chart structure of the oil markets along with some individual names for your consideration, which can be retrieved on my RJNet page for subscribers. For non-subscribers, I suggest contacting the Equity Advisory Group (727.567.2520).
The call for this week: The biggest winning macro sectors last week, likely because of Draghi's and China's announcements, were Materials (+2.76%) and Energy (+2.50%). However, by far the biggest winner for the week was the economically sensitive metal Nickle (+7.38%)! I think this speaks volumes about the strength of the economic recovery and would remind investors that according to Goldman Sachs, for every 0.50% slowdown in the world's economic growth, it only affects U.S. GDP growth by less than 0.13%! This week weather could again come into play as cold weather falls over the U.K. and Europe. Also Energy will be a topic as the stalled nuke talks with Iran capture the headlines. The Ferguson grand jury decision is due, Illinois is going to have to find a way to fix the worst pension shortage in the history of America, and OPEC meets to decide about production "cuts" in the light of declining oil prices (and please see our Energy team's Oilfield Stat of the Week for more insight on oil prices). Meanwhile, traders are "long" the U.S. dollar in record amounts, and short the 10-year T'note contract (I think they are both wrong on a trading basis). Of interest is that Alerian Capital Management LLC, which manages indexes tracking energy and infrastructure companies (mainly MLPs), is in the early stages of exploring a sale of the company. Ladies and gentlemen, these are the kinds of headlines seen at major bottoms, and in this case, it would be a bottom in the Master Limited Partnerships (MLPs). I will be at FOF (Friends of Fermentation) next week with my friend Eric Kaufman, captain of VE Capital Management (http://www.vecapitalmanagementllc.com/), which manages money in MLPs, along with my friends the legendary Arthur Cashin and Bob Pisani, as well as a host of other dignitaries that happen to be in NYC. To my friend Doug Kass, who very kindly mentions me in his "best-selling" book A Life On Wall Street, I hope you are there! This morning German business morale is better, China stands ready to cut interest rates again, and Iran says its nuke talks will resume next month. All of this has the preopening SPX futures higher by 5-points at 5 a.m.
---
Crude Oil?

November 17, 2014
"The greatest asset, even in this country, is not oil and gas. It's integrity. Everyone is searching for it, asking, 'Who can I do business with that I can trust?'"
... George Foreman
"Integrity," Webster's dictionary defines it as, "The quality of being honest and having strong moral principles." Recently the voters of America sent the D.C. crowd a message that they want "integrity" back in government. Consequently, I viewed the midterm election as a "turning point." And, a turning point approaches on December 21st of this year. That's when the Winter Solstice arrives. While Americans think of it as the shortest day of the year, I have always liked the French version, "It is the longest night of the year." Indeed, after December 21st the days will progressively get a little longer and the nights a little shorter. For centuries the Winter Solstice has been worshiped as a "turning point" by various civilizations.
It appears that America has arrived at its own "turning point" with the mid-term elections. As previously written, while the Democrats are trying to downplay the results, noting that two-thirds of the voters didn't vote, I see things differently. Back in the 2006 midterm elections the Democrats took back control of both the House of Representatives and the Senate after a 12-year hiatus. They also captured a number of governorships. The Democrats trumpeted that as a sweeping victory with a huge mandate and gloated accordingly, but here's the rub. About the same number of voters voted in the 2006 midterms as voted in the recent midterms. I would warn the Republicans to not make the same "gloating" mistake as the Dems did in 2006.
The win, however, was indeed sweeping as prior to those elections there were 143 more Republican State Senators than Democrats, now there are 257. At the State House level it was even more stunning with the GOP having a 689-seat advantage for an increase of 432 seats. The governorship "win" was equally a mandate. For months I have suggested this was going to happen, often writing, "There is going to be a change in the constituency of Congress with the election of smarter policymakers and subsequently smarter policies." Now it is up to the Democratic Party to encourage the President to move more toward the center of the political equation. Again, as written, "Either the president can move toward the center, like Bill Clinton and Ronald Reagan did, or he can dig in his heels and become even more intransigent. This is what President Grover Cleveland did and it killed the Democratic Party with no Democrat president for the next 16 years. Despite all of the tough talk, right now all we are seeing is the typical Washington Waltz with both sides posturing themselves. I continue to believe there is compromise in the air, but we will have to see how that plays out between now and year-end. If my view prevails, it would be pretty bullish for the equity markets.
Speaking of "pretty bullish," my friend Brian Belski has done a study of past secular bull markets and determined that equity markets tend to enter a long period of expansion after emerging from an extended period of negative returns (the lost decade of 1964-1982, or 2000-2012). Typically these expansion periods last for 15 years with annualized returns of ~16% per year. Using March 2009 at a starting point implies we have another 10 years left in this secular bull market with a price objective for the S&P 500 (SPX/2039.82) of 4200+ in 2024.
Recently, however, Wall Street's attention has turned from ISIS, Ebola, elections, etc. to "rude crude's" spectacular price decline. Said decline has seen the November crude oil futures contract slide from its intraday high of $107.73 on June 20th of this year into last Friday's intraday low of $73.25 per barrel. Interestingly, Friday's trading action has the look of an upside reversal in the charts (see chart on page 3). Ladies and gentlemen, that June through November swoon was a prodigious 32% decline in nearly four months. I actually warned of such a decline last summer, noting it would probably find support around the $75 - $80 per barrel level. Many reasons have been offered for oil's demise. Some say there is too much supply, while others suggest there is too little demand as the world's economies slow. As I was told three months ago, the U.S. and Saudi Arabia are going to "lean on the price of oil to hurt Putin, ISIS, Iran, and Venezuela. Some pundits are saying that the bear market in crude oil is an ominous precursor to a bear market in stocks, but this is not backed up by the historical facts. In examining the SPX's performance during bear markets in oil shows the SPX has an average +3.02% (median +5.51%) gain two-thirds of the time according to the good folks at Bespoke. To further illustrate this lack of correlation, Bespoke constructed the nearby charts and wrote:
Bull markets are shaded in green while bear markets are shaded in red. Here it is hard to make any compelling argument that bear markets in crude oil have been bad for the equity market. In fact, during 84% of all the days that crude oil has been in a bear market, the S&P 500 has been in a bull market. A more persuasive case may be that bear market periods in the S&P 500 were preceded by bull markets in crude oil.
It is also worth noting that the current "bear market" in crude oil, at 416 days, is the second longest bear market in the past 30 years, with the longest being the 541 calendar days affair between 6/24/92 and 12/17/93 (another tip of the hat to Bespoke). Accordingly, I think crude oil is in the process of forming a bottom, but the oil complex stocks will likely have issues in tax loss selling season before they bottom. Still, dividend-paying oil stocks should be accumulated between now and the end of the year because they are trading below "known valuations."
The call for this week: Most of you know that I am in Phoenix seeing institutional accounts and speaking at events for our financial advisors. While one of my favorite boutique hotels in the world is here, namely the Royal Palm, hands down my favorite Southwestern cuisine restaurant in the area is Richardson's (http://richardsonsnm.com/) where the general manager, Mary Petty, is plying me with wine as I write this missive. It is the best restaurant in Phoenix. This morning Mary is concerned that Japan is slipping into recession, while the U.K.'s Cameron warns of the weakness in the world's economy. Meanwhile, Baghdad says ISIS's Caliphate is expanding, all of which has the preopening SPX futures off 5 points at 5 a.m. If the SPX falls below 2020, 1990 to 2000 comes into view.
---
Dash Dash ... Dot Dot

November 10, 2014
"Dash, Dash ... Dot, Dot" is all about Morse Code where the "dash" is three times the duration of the "dot." According to Wikipedia, "Each character (letter or numeral) is represented by a unique sequence of dots and dashes. Each dot or dash is followed by a short silence, equal to the dot duration. The letters of a word are separated by a space equal to three dots (one dash), and the words are separated by a space equal to seven dots" (see chart 1 on page 3). This morning, however, I am not referring to Morse Code, but the "mad dash" I have been on for the past four weeks. A week ago today I finally warped back into my trading-turret from London the day before after two weeks in Europe seeing portfolio managers (PMs). It was 5:00 a.m. and I was trying to get ready for a CNBC appearance. On that 6:00 a.m. "hit" I reiterated my chant for the past few months that the Republicans were going to take back the Senate in Tuesday's mid-term elections. The rest of Monday was spent attempting to recover from Europe just in time to jet out to Cleveland early Tuesday to see some PMs and then drive to Canton, Ohio for a speaking engagement at the Football Hall of Fame.
The next day (Wednesday) I was off to Dayton for a lunch and an event at the Moraine Country Club for a few hundred investors. Thursday arrived with an appearance on TV where I was asked, "Well you correctly predicted yesterday's Republican win, but do you still believe an intransigent President Obama will become more centric?" As I wrote in Friday's Morning Tack:
Either the president can move toward the center, like Bill Clinton and Ronald Reagan did, or he can dig in his heels and become even more intransigent. This is what Grover Cleveland did and it killed the Democratic Party with no Democrat president for 16 years. Right now all we are seeing is the typical Washington Waltz with both sides posturing themselves. I continue to believe there is compromise in the air, but we will have to see how that plays out between now and year-end. If my view prevails, it would be pretty bullish for the equity markets. But, in the near-term, I think we are making a short-term trading top.
Later that day it was discussions in Columbus with PMs and then a presentation at Ohio State University's Alumni House. As usual, I was wearing my University of Michigan hat, which was immediately swiped from my head. Would whoever did that please return my hat? My hat notwithstanding, one of the better questions I fielded in my Columbus institutional meetings was about sentiment. The question went something like this. "Jeff, you were very bullish at the March 2009 lows, when investor sentiment was at a historic negative reading (very bearish). Currently, the same AAII Survey is as bullish as it has been in quite some time (see chart 2). Do you think these two extreme readings will mark the 'bookends' for the current bull market?" My response was, "I do not!" If you watch what individual investors are doing, rather than what they are saying, the inference is totally different. The AAII Survey (American Association of Individual Investors) is all about "counting noses" (what they say). From my perch I can actually see what more than 4 million individual investors are doing with their money; and with their money, they are not acting so bullishly. Quite frankly, most of them do not understand why stocks are "up." They think it is all about the liquidity the Fed has injected into the system; and, there is little doubt that has helped. But, if next year's "bottom up, operating earnings" estimate for the S&P 500 is anywhere near the mark, earnings will have almost tripled from their 2008 trough. Moreover, the equity markets do not care about the absolutes of good and bad, but rather are things getting better or worse. To be sure, things are getting better.
This concept was first related to me by Laurence Tisch, investor extraordinaire of Loews Companies fame. I wrote him a letter in late 1974 expressing the desire to come by and shake his hand. I was a "kid" at the tender age of 25. Not only did he grant me an audience, but he spent 30 minutes with me. I walked into his office, which was austere. This billionaire sat behind a plain Steelcase desk and behind him was a Steelcase credenza with a Quotron machine on top of it for stock quotes. After some pleasantries, I asked him why he was buying Overseas Ship Group. "Kid," he said, "I can buy out the entire company at its current market capitalization, meltdown all of the ships, and sell the scrap steel for more than I am paying for the shares." Boy, talk about value investing! It was in that meeting he expressed that all the equity markets care about is if things are getting better or worse. Ladies and gentlemen, currently "things" are getting better.
So after predicting the results of last week's elections, I am being bombarded by the media with, "What does it all mean?!" Well, as stated last Friday, the Democrats are trying to downplay the results by noting that two thirds of the voters didn't vote. I, however, have a very long memory. Recall, the year was 2006, and the date was November 7th, when the Democrats took back control of both the House of Representatives and the Senate after a 12-year hiatus. They also captured a number of governorships. The Democrats trumpeted it as a sweeping victory and a huge mandate, but here's the rub. About the same number of voters voted in the 2006 mid-term as voted last week. I would warn the Republicans to not make the same "sweeping" mistake as the Dems did back then. As the Monness, Crespi, Hardt & Co.'s sagacious Sydney Williams writes:
Republicans should be pleased with the results. They will control both the Senate and the House. But commentators who claim they 'caught a wave' exaggerate, in my opinion, the results. When only five or six percentage points separate winners from losers that is not a wave, it is a victory, but one with a substantial minority. That was the mistake Mr. Obama made in 2008. He ignored the voices of the 47% of the people who voted for John McCain. Those who won last night should not make the same mistake now (read it here).
Speaking to last week's mid-term vote is the seldom used, but very insightful Ballotpedia.org comments. As I have been saying for a while, "We are in the process of electing smarter policy makers and therefore are going to get smarter policies!" Last week that view came home in spades if you take the time to "drill down" into the backgrounds of the folks that were elected. They were practical, business-orientated people. I think this drives profound changes for policy in the months ahead, unless our president follows the path of Grover Cleveland. If that happens, all bets are off. But, in my 44 years in this business, if something absolutely had to happen, it has typically happened; and, we are at the point where things have to happen!
Looking at the entrails of the current market shows a number of things. As stated late last week, for a number of reasons, I believe we are in the process of making a short/intermediate trading-top. While I have trouble with the PM's suggestion about the AAII sentiment surveys, there are a number of "finger-to-wallet" indicators reinforcing my near-term caution. There was actually an excellent article pointed out to me in my interview with a Forbes reporter late Friday afternoon speaking to the current environment titled "Three Reasons Not to Jump into Stocks Now". Obviously, that "foots" the my work suggesting the stock market's internal energy has been TOTALLY used up in the "dash" from the October 15th "lows." I was pretty bullish at the time and said so on numerous TV shows. Regrettably, I am not so bullish on a trading basis here, believing a "trading top" is at hand. Accordingly, those folks with the fortitude, and with the cash we advised raising prematurely in July/August, that took our advice to put some of that cash back to work around the mid-October lows, I am now recommending, at least on a trading basis, using the dreaded four-letter word almost never uttered on Wall Street ... SELL. Longer-term, I think the equity markets are still involved in a secular "bull market" that has eight to ten years on the upside.
The call for this week: This morning the U.S. dollar is lower and WTI crude oil is back near $80 per barrel. The Russian Central Bank has abandoned support for the ruble and Iraqi military forces enter Baiji to stop ISIS' attempted takeover of the country's largest refinery. This news has left the preopening futures flat at 5:30 a.m. Nevertheless, I don't like the near-term divergences that are occurring. The small/mid-cap stocks are lagging, the market's On Balance Volume is below the August/September highs. Ditto the NYSE Composite (NYA/10864.58), and while the S&P 500 (SPX/2031.92) made new highs last week, the D-J Industrials are at resistance. I still think we are making a short-term trading top. If the SPX breaks below 2020, 1990 comes into view and then 1940 – 1950; Dash, Dash ... Dot, Dot!
---
Europe

November 3, 2014
Now is not the time to sell stocks. The time to raise some cash was back in July and August. We advised doing so and that call was not looking very good until the last few weeks. But, now is not the time to sell!
... Jeffrey Saut, various TV interviews, the week of October 12, 2014 (as paraphrased)
At the risk of looking like a sycophant, I quote myself this morning because in mid-October investors were worried the equity markets were about to fall off of a cliff with the S&P 500 (SPX/2018.05) down 9.8% from its intraday high of September 19th, 2014 to its intraday low of October 15th. Unfortunately, I left for Europe on October 16th and never had time to explain why you should not be selling stocks and why you should have put some money back to work, although my colleague Andrew Adams did a really good job of emphasizing why October 15th and 16th had a very good chance of representing a tradable bottom. I had actually thought the envisioned 10% - 12% pullback had begun in July when all the divergences commenced (small/mid-caps down, large caps up, Dollar Index going vertical, the advance/decline line falling, etc.). Obviously that "call" proved premature until late September/October when the large capitalization stocks finally followed their small/mid-cap brethren into the netherworld. The pullback culminated with the October 15/16th "two-step" that left the NYSE McClellan Oscillator oversold. The number of stocks below their respective 10/30/50-day moving averages also suggested an oversold condition, not to forget there were more "selling climaxes" on those two days than we have seen since the October 2011 "undercut low." A selling-climax is when a stock trades down to a new 52-week low and then closes near the high of that session's trading range; and that closing price needs to be above the previous Friday's closing price. Obviously, as can be seen in chart 1 (page 3), mid-October represented extreme selling-climaxes and the resulting throwback rally has been impressive.
Said throwback rally has lifted the SPX ~11% from its October 15th intraday low (1820.66) in a rise that has been absolutely breathtaking! Also along the breathtaking line has been the upside "blast" off of the recent lows. As Jason Goepfert, of the must have SentimenTrader, writes:
For the past 10 days, buyers have pushed the S&P 500 so far, so fast, that it has traded more than 0.5% above its 5-day average every day. The reason this is so unusual is that a 5-day average is responsive, and changes quickly with even minor weakness in prices. Coming off of a six-month low within the past three weeks, there have only been two other instances since 1928 that the S&P enjoyed this much of a kick-off blast: 26-Aug-1982 and 23-Oct-2002. Both happened to mark the end of long-term bear markets. ... When the S&P thrust off a low, it tended to sink back over the next week, then push higher again. A month later, the S&P was positive 9 of the 11 times, averaging +2.3%. The two losses were minor, at -0.8% and -2.6%. There were three occurrences among them that were not good. In 1973, 1977 and 2001, stocks saw significant weakness in the months ahead. Other than those, results were impressive with average returns of +21.2% over the next year.
Indeed, as often stated, in secular bull markets all the surprises come on the upside with the exception being the October 1987 stock market crash. Yet, even that disaster was short lived with the "bull" resuming its upward onslaught in December 1987. So what has caused this explosive rally since October 15th?
Well, obviously the aforementioned oversold condition set the stage for a rally, but not a move of this magnitude. My call for a trading top in the U.S. Dollar Index of four weeks ago helped usher in the stock slide, but with last week's interest rate rise that index broke out to a new reaction high (chart 2). I also stuck my neck out on interest rates the week of October 13th, like I did on the trading top "call" for the U.S. Dollar Index the week of September 29th, and so far that interest rate "call" is looking okay. To wit, I think the 10-year T'note made a double top in the charts on, very interestingly, the same day stocks bottomed (October 15th). The first top came in July 2012 at a yield of 1.39% and the second top occurred two weeks ago at 1.8%. Plainly, to a foreign investor, rising stock prices, accompanied by a rising U.S. dollar, is a double-whammy with irresistible consequences. Of course, the dive in gasoline prices has huge positive implications for the U.S. consumer. Then there was the recently better than expected economic data, punctuated by last week's advance +3.5% GDP report, as well as Japan's huge QE announcement. However, I think the overriding factor for the two-week triumph is the expectation the Republicans are going to capture the Senate. Here's what I told accounts in Europe over the past two weeks.
I am an independent voter. I tend to alienate both the Republicans and the Democrats. When the Republicans shut down the government I stated on TV that, "To shut down the government for something you are not going to be able to defund, or repeal (Obamacare), it is a flawed strategy;" and, boy did I get hate mail for those comments! So here was my shtick in Europe for the last two weeks. I think the Republicans are going to re-take the Senate and the Democratic Party is going to be so freaked-out by a Republican House and Senate, with the potential for a Republican president in 2016, they are going to force an intransigent President Obama to move toward the "center." Ladies and gentleman, a more centric President Obama would be the missing ingredient over the last few years that would cause an explosion in stock prices. Remember that the Reagan Revolution kicked off a powerful rally back in the 1980s. I believe this is the theme that is driving the current rally, and when combined with the aforementioned metrics, it has produced a powerful rally. Yet on a trading basis, the current rally is over-extended. Indeed, the 10-day Advance/Decline Line, at +1888, is WAY overbought since readings over +1750 are considered extreme (see chart 3, on page 4).
As for what I gleaned from some 200 European portfolio managers (PM) over the past two and a half weeks, the biggest surprise was their ubiquitous negative outlook for Europe. I actually think the ECU's bank president Mario Draghi has finally brought out the bazookas with his tantamount to a QE announcement. I even think he made Frau Merkel "blink" because he also implied he is going to purchase corporate, as well as sovereign, debt. Yes, I know the European debt markets are not as "deep" as the U.S. and was chided on this point by a number of PMs. However, in the stock market psychology drives at least part of the near-term trend and psychology is improving in Euroland, as reflected by last week's European consumer confidence reports. I think it was the head PM of the Swiss private bank Notz Stucki & Cie who expressed it best in my meeting with his team when he said, "The media keeps bombarding us daily with how bad things are in Europe, so it is pretty difficult to form a more constructive view." That said, while I do think there is a short/intermediate upside trade for Europe, longer-term there needs to be policy adjustments (especially in France and Italy) if the continent wants to get to a better structural place.
By far what most of the European PMs wanted to discuss was the U.S. political scene, the U.S. markets, and emerging markets (EMs). Speaking to EMs, they are trading at a 10% cash flow discount to Europe and a 25% cash flow discount to the U.S. Interestingly, in Raymond James' recent Investment Strategy Committee meeting, Nick Lacy referenced chart 4 (page 4), which shows small-cap emerging markets, emerging markets, and international REITs as being timely themes. I was also surprised about the lack of talk on this trip about Ebola, which has sent Americans into a tizzy, just like what happened with bird flu (1968/69) and SARS (2008/09). I did tell PMs that if Ebola does not turn into a pandemic, the airlines are a screaming "buy" since load factors and yields are doing well. Delta (DAL/$40.23/Outperform) is likely the class act for this theme in the U.S., based on my reading of our airline analysts' recent report titled "Global Airlines Outlook." I was also repeatedly questioned about the impact of slowing world GDP on America. Fortunately, my friends at Goldman Sachs penned an in-depth report last week analyzing this issue. They concluded that for every 0.5% reduction in the world's GDP growth rate, the impact on U.S. GDP was a mere -0.13%, and likely less than that! As for earnings and revenues, what can I say to the negative nabobs that have been telling us for four years they were not going to come in according to expectation (chart 5, page 5).
During my European travels I have stated that I think we are at the stage of the secular bull market where nearly everything "works." Small-caps, mid-caps, large-caps, most macro sectors, and most industry groups, save precious metals and Materials. Yet, on a trading basis, most of the macro sectors are short-term overbought except for Energy and Materials. Since I believe we are heading into a capital expenditure cycle, for that theme I have favored Information Technology, Healthcare, and Industrials. As can be seen in chart 6 (page 5) these macro sectors have an above average earnings "beat rate." Heading into this week, most of the market indices are indecisive, being trapped between their various day moving averages (DMAs).
The call for this week: Bottoming sequences are a function of time and price. To be sure we have had the "price" part of that equation with the SPX's 9.8% pullback. The time function, however, has not been achieved. Moreover, V-type bottoms are pretty rare, and that's what we saw on October 15/16th. However, typically what happens is you get a decline into an "emotional low" like we saw in 1978 and 1979, followed by a throwback rally of some consequence. Then after, six to eight weeks of consolidation, the SPX comes back down and tests the "emotional low," and sometimes actually breaks marginally below it (an undercut low), setting the stage for the next "leg" to the upside. This is what happened in 1978 and 1979, and it is what happened on October 4, 2011, we were very bullish. Last Friday the world's markets got caught "flat footed" with Japan's surprising 80 trillion yen QE announcement and the short-sellers scrambled to cover. Adding to the collective "short squeeze" was end of the month performance machinations. Of interest is the recent action first cleaned out ALL the downside "stop loss" orders and then "cleaned out" all of the upside buy-stop orders (short-sales), which is what typically happens near an inflection points. Today is also session 13 in what appears to be a "buying stampede and buying-stampedes typically last 17 – 25 sessions before they exhaust themselves. So if I could script it, look for the Republicans to win back the Senate leading to a near-term upside blow off in the equity markets, which I would use to take some trading positions off of the table.
---
Additional information is available on request. This document may not be reprinted without permission.
Raymond James & Associates may make a market in stocks mentioned in this report and may have managed/co-managed a public/follow-on offering of these shares or otherwise provided investment banking services to companies mentioned in this report in the past three years.
RJ&A or its officers, employees, or affiliates may 1) currently own shares, options, rights or warrants and/or 2) execute transactions in the securities mentioned in this report that may or may not be consistent with this report's conclusions.
The opinions offered by Mr. Saut should be considered a part of your overall decision-making process. For more information about this report – to discuss how this outlook may affect your personal situation and/or to learn how this insight may be incorporated into your investment strategy – please contact your Raymond James Financial Advisor.
International securities involve additional risks such as currency fluctuations, differing financial accounting standards, and possible political and economic instability. These risks are greater in emerging markets.
Investors should consider the investment objectives, risks, and charges and expenses of mutual funds carefully before investing. The prospectus contains this and other information about mutual funds. The prospectus is available from your financial advisor and should be read carefully before investing.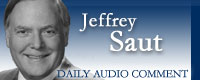 Jeff Saut's Daily Audio Comment is recorded every weekday, except Wednesday, at 9 a.m. ET. It is made available to the public on this Web page at approximately 1 p.m. ET.