Crescendo or consolidation?

May 18, 2015
The S&P 500 (SPX/2122.73) has basically been locked in a trading range between 2040 and 2100 since early February of this year. Some technical analysts term the subsequent chart pattern a wedge and others call it a rising wedge. While pundits can debate the difference between the two, the important point is which way said chart pattern will be resolved with either an upside breakout, or a downside breakout. I have been somewhat sanguine on that question until the past few weeks. My reasoning is that recently there has been a ton of bad news on most fronts and yet the major indices have refused to go down very much. That caused one old Wall Street wag to scribe, "When the markets ignore bad news, that's good news!" Consequently, I have been adamant that I am expecting a decent move to the upside despite the old market "saw" sell in May and go away. The Bureau of Economic Analysis' (BEA) flash estimate of 1Q15 GDP was weak with a mere 0.2% rise, yet the equity markets really did not collapse on that report. The reasons offered up for the weakness were a strong U.S. dollar, the weak oil sector, the West Coast port strike, and the brutal winter weather. While 2Q15 could also prove squishy, we believe growth will pick up in 3Q and 4Q of this year.
Last week there was more bad news with retail sales (ex autos and gas stations) up just 0.2%, May NY manufacturing less than expected, U.S. Industrial production fell 0.3% month-over-month in April, University of Michigan Consumer confidence was down 7.3 points, and 30-year mortgage rates hopped to their highest level in nine weeks as interest rates continued the surge that began in mid-April. Despite this onslaught of negative news, the SPX notched new all-time highs. While the D-J Industrial Average (INDU/18272.56) has not done that, it is very close to its all-time high of 18288.63 (3/2/15). However, the D-J Transports (TRAN/8680.78) remain troublesome, having failed to confirm the Dow's new all-time high since March. I have written about that upside non-confirmation ad nauseum, but would note the Trannies have also tried seven times to break below their support level, between 8520 and 8550, and as of yet have been unable to do so.
Meanwhile, my internal energy indicator has the highest charge of energy I have seen in years, and as repeatedly stated, "I think it is going to be released on the upside. If I am wrong, I will have to readjust." "But Jeff," one all in cash investor said to me in Philadelphia last week, "Stock valuations are extremely high, so how can the S&P vault above your 'upside breakout' level of 2100 – 2126 and push higher into your 2150, and maybe as high as 2250, zone?" My response was that while a few indicators are richly priced, most of the ones I use are not. I believe my thinking was best summed up by Clearbridge Advisor's Paul Ehrlichman, who said, "The world is invested for 'Stagflation,' what if we get growth? The world is also invested for the 'black swan,' what if instead we get growth?" Obviously, he thinks we are going to get growth and I agree.
Speaking to valuations, the only valuation metrics I look at that suggest stocks are expensive are the Cyclically Adjusted Price Earnings (CAPE) and market capitalization to GDP. I rule out the CAPE for a number of reasons. I think changes in the accounting rules in the 1990s, which make companies take large write-offs when assets they hold go down in price, but do not allow them to boost earnings when the price of those same assets rise, is an issue since CAPE uses a backward looking analyses of earnings. The CAPE also requires a consistent measure of inflation, when in fact the government frequently makes changes to the index that measures inflation. Finally, the CAPE assumes a normal business cycle. In past missives I have argued that due to the severity of the 2007 – 2009 financial fiasco the mid-cycle recovery is going to be much longer than your father's typical business cycle.
As for Warren Buffett's favorite stock market valuation tool, the market capitalization to GDP ratio, hereto I think it is different this time. Coincidentally, my friend and terrific portfolio manager David Kotok (Cumberland Advisors) recently wrote:
The longer-term trend level of S&P 500 value to US GDP is about 95%. The current level of the S&P 500 is about 105% of GDP. So at first view it would appear that the US stock market is richly priced, but not by very much. But history suggests that analysis may not be really complete. The range of about 35 points from peak to trough in the ratio of stocks to GDP has held roughly constant for the last century. The 1929 high was an extreme overshoot. The World War II-era, 1942 low was an extreme undershoot; it occurred after Pearl Harbor and before the Doolittle bombing raid on Tokyo. So at today's 105% we are not much above the range. But something else has happened since the 1982 low. The foreign-sourced profit share of American corporations has risen from 10% to 30%. Thus an additional 20% of profits now being earned by American corporations originates from their activity abroad. However, US GDP does not include the foreign GDP that is the source of that additional 20% profit share. In other words, our domestic GDP generates only 70% of profits; thus using GDP alone to value the stock market is ignoring the growing foreign GDP that has become very significant.

What can we infer? Maybe the current level of stock prices is forecasting that the profit share from foreign sources is going to decline abruptly, while the domestic share is not going to grow. That is possible, but we do not see any forces at work to make it happen. Maybe the taxation of American corporations is about to go up significantly so that after-tax profits will decline. That is possible, but we do not see it as likely. The other side of the argument is that the profit share from abroad will continue to grow, as it has for the last 30 years, and that US corporations will continue to gain global market share. Or, at least, we may infer that they will hold their own. They may gain by acquisitions, as we just saw with Monsanto. Or they may gain by market penetration, as we just saw with Apple in China. How they gain is not the important issue from the perspective of the stock/GDP ratio. As long as they gain, this measure of stock market value remains a critical macro indicator. If we are close to being right, the adjusted trend for the stock/GDP ratio would actually be below the current level rather than above it. Adjusted for the profit share change, the stock market is cheap, not richly priced. And if the foreign-sourced earnings trend continues upward, the S&P 500 Index could easily reach 3000 by the end of this decade, at a time when US GDP will be about $20 trillion.
The call for this week: Monday is shaping up as a non-event with the trading action. Indeed, the preopening S&P futures are directionless. By mid-week, however, the stock market's internal energy should be ready to be released on the upside; and that energy is as high as I have seen it in years. This suggests that the upside fireworks should begin in the Tuesday through Thursday timeframe with a very near-term price objective of 2145 – 2165. Of interest is the NASDAQ Financial Index has broken out to the upside. In my discussions last week with one savvy value-centric portfolio manager in Philadelphia, he said the Financials were likely the only value sector currently. For ideas in that space, please see our fundamental analysts' recommendations.
---
The happening

May 11, 2015
"The Happening" . . . except in this case I am not referring to the 1967 movie, whose title song was sung by the Supremes, but last Thursday's "Friends of Fermentation" (FOF) gathering at Bobby Van's across from the NYSE. We actually parachuted into the city the afternoon before, just in time to have dinner with two portfolio managers (PMs) at one of my favorite Italian restaurants, Da Noi at 49th Street and 3rd Avenue. Following that were after dinner drinks at what is arguably the best Greek food in the city, Avra. Thursday morning was spent on the floor of the NYSE doing CNBC and then lunch at Circo with two investing veterans. After visiting with a number of other accounts, and a great discussion with Goldman Sachs' John Tousley (and I apologize to all the portfolio managers I missed because this was such a short stay), "It Happened"; FOF began Thursday at 4:30 p.m. In attendance were the usual suspects, captained by none other than UBS's Arthur Cashin. I was very sorry my friends Bob Pisani and Kelley Evans from CNBC could not make it, as well as my friend Rich Bernstein, but a few of my favorite associates from Raymond James did. Sonja White, a terrific portfolio manager in her own right, stole the show, as can be seen in the attendant picture with Arthur. At about 6:30 p.m. the party broke up and we traveled to a fabulous French restaurant named Picholine for a wonderful meal with the best MLP portfolio manager I know, Eric Kaufman, and his brilliant portfolio managing partner Victoria Crisologo, of the venerable money management firm VE Capital. Obviously I gleaned a number of interesting investment ideas during my New York stint, which I will be sharing in these missives.
Friday morning was a blur after the night before festivities, but I did have breakfast with a hedge fund and then spent two hours with the good folks at Blackrock. The first meeting was with Jeff Rosenberg, Chief Investment Strategist for Fixed Income, and we chatted about the Blackrock Strategic Income Opportunity Fund (BSIIX/$10.17), which is a true bond fund. Jeff opined, "Europe may be reflecting a fundamental turn in the economic outlook. To the extent it does, it underlines our view that rising European interest rates reduces the 'low global yield' argument, leaving the back-end of the U.S. yield curve vulnerable. As such, we continue to favor the belly of the yield curve exposures in the U.S. interest rate complex, with flatteners on the front end and steepeners in the long end." For non-bond folks, that means he is anticipating higher long-term rates and flat short-term rates. A couple other interesting data points surfaced in our discussion. While I have argued the depth of the Financial Fiasco in 2008 – 2009, and the subsequent muted economic recovery, should extend the length of the mid-cycle recovery, Blackrock's Rosenberg thinks we are in the late-cycle stage of the credit cycle. He also told me the credit cycle typically lasts seven years and in the high yield complex, over that seven-year cycle, there is a 30% default rate. Of course we talked about interest rates, the U.S. dollar, energy, international markets, Robo investors, inflation, et all.
Following that meeting, Blackrock's Michael Fredericks, Head of Asset Allocation for the BlackRock Portfolio Strategies Group and lead PM for the Multi Asset Income Fund (BAICX/$11.23), arrived with some of his team. Their strategy is risk adverse, noting they have less risk than most of their competitors with similarly structured mutual funds. Their portfolio is roughly 30% comprised of dividend-paying stocks and 70% in shorter duration fixed income. I like the fact they sell out-of-the-money "call options" against many of their stock positions to help produce a current yield of more than 5%. One of Blackrock's economists was in this meeting and said the Industrial sector's business bottomed in 1Q15 and should come back to life in 3Q and 4Q of this year (I agree). He also stated consumer spending should snap back in that same timeframe after the 1Q15, and maybe 2Q, lag. We did touch on what they think is the best valued class of securities currently, namely preferred securities. They did share that an eye-popping $141 billion in stock "buybacks" took place in April, up a stunning 100% year-over-year. I discussed that topic with Craig Drill, at the firm that bears his name, late-day Friday (I wish I could have gone to the opera with Craig, his wife, and Mr. and Mrs. Paul Volcker that night, but I already had a dinner commitment with Mr. X, a guru who wants to remain unmentioned). Nevertheless, Craig said, "You need to deduct 'option buying' from that 'buy back' equation and the results are not nearly as overpowering," which is a pretty insightful observation. Blackrock also said to expect a "material economic acceleration" in Europe, believing domestic consumption has returned, but that the "export shoe" has yet to drop despite the mini-crash in the euro currency.
So in Thursday's CNBC interview I told the wicked smart Sara Eisen I thought Friday's employment report would be stronger than most expect and – bingo – it was, with a concurrent explosion in equity prices. Unfortunately, the "explosion" stopped (once again) at the topside of the wedge formation in the chart of the S&P 500 (SPX/2116.10) that has been in existence since February around the 2120 level. I have written repeatedly that I think the SPX is going to make an upside breakout above the 2120 to 2126 level, leaving the biggest surprise for most investors/traders a resulting upside spurt to more than 2200, which has caused many pundits to think I am totally NUTS! Indeed, in this business I have been told for more than 40 years, "If you give 'em a price, do not give 'em a timeframe; and, if you give 'em a timeframe, don't give 'em a price." Alas, I have done both, or as my dearly departed father use to tell me, "Jeff, please take a stand. Too many Wall Street wags write/talk in such a way that no matter what happens they can say they were right. Please take a stand, and if you are wrong, say you are wrong and readjust, but for God's sake . . . take a stand." I miss my dad!
So Sara asked me twice, "What do you think about Janet Yellen's statement that stocks are overvalued?" My response (twice) was, "Janet Yellen is an economist, not a strategist." You can see the details in the aforementioned video from CNBC. As for this reporting season, unfortunately the percentage of companies beating earnings estimates has fallen to 60.3% this quarter with revenue "beats" declining to 49.7% for the S&P 1500. The readings are much better for the smaller sample of S&P 500 companies, but I prefer to use the broader 1500-stock sample. Does the earnings dirge deter me from my bullish tilt? Absolutely not! I would also note that earnings estimate revisions have hooked up over the past month (see chart on next page).
The call for this week: I should mention that both of the discussed Blackrock funds have a Highly Recommended rating from our Mutual Fund Research Department, which has certainly taken a stand on these two funds. "Taking a stand," what a novel concept in this business where few actually make a "call." My colleague Andrew Adams and I took a stand during the bottoming process in crude oil between January and March of this year, often stating, "Crude oil is/has bottomed," while many seers were calling for $20 to $30 per barrel oil. Near-term crude oil is overextended and should attempt to pullback, especially if there is a deal with Iran. Andrew and I also "took a stand," and did a special strategy call on October 15, 2014 commenting, "If you didn't raise cash on a trading basis when we suggested last June/July, you DO NOT sell stocks here. This is how bottoms are made." We are taking a stand again, believing an upside breakout is coming. If we are wrong, we will adjust, but at least we are taking a stand and making a "call!" Can you hear me now?!
---
For trading, not eating!

May 4, 2015
"If I had to characterize the market in 2015, I would call it a 'trading sardine market' not an 'eating sardine market'."
... Doug Kass, captain of Seabreeze Partners
My friend, pal, buddy, Dougie Kass issued the above quip from his perch in Palm Beach over a week ago that reminded me of something I wrote about years ago. I like this story:
"While gold was first discovered in Alaska during the 1870s, the 1890s have come to be known as the Yukon-Klondike Gold Rush days, as thousands of rugged individuals swarmed to the northern climes to find fortune and glory. Unsurprisingly, during the winter of 1896-97 the Alaskan ports were frozen solid and therefore closed to all shipping traffic. Food became very scarce and very expensive since new supplies had to be brought in over land at great hardship. Reportedly, a can of sardines that had cost $0.10 in New York could be priced at 10 times that amount by the time it reached the gold miners in Alaska. Still, there was great demand even at such inflated prices. For instance, in one remote mining town the price of a can of sardines was sold at rapidly escalating prices from $10.00, to $30.00, then $50.00. Finally, one desperately hungry miner paid $100.00 for a can of the highly sought after sardines. He took it back to his room to eat. He opened it. To his amazement he discovered the sardines were rotten. Angered, he found the person who sold him the tin and confronted him with the rotten evidence. The seller was amazed and shouted, 'You mean you actually opened that can of sardines? You fool; those were trading sardines, NOT eating sardines!

... Anonymous
Trading sardines indeed, except I have seen a lot of folks attempting to trade this market over the past few months all to no avail. What has typically happened is that one day they are able to make some money, but the next day they give that profit back. Dougie even tweeted on this by noting, "The market has no memory day to day!" I have not gone back and counted, but my sense is that over 50% of this year's sessions have seen 100 point daily swings in the D-J Industrials (INDU/18024.06) with one day being up and the next day being down. If you can trade that successfully, you are a better trader than I am, which is why I have not attempted to trade this market all year. Clearly, sometimes me sits and thinks, and sometimes me just sits! As my friends at the sagacious Bespoke organization wrote Friday morning:
"As of yesterday's close, the S&P 500 has essentially not changed since the closes on: 4/17, 3/30, 2/12, and 12/24. What's more, 19 of the 88 trading days since 12/23 have seen a tick that included yesterday's closing price. US equities are on a treadmill thus far in 2015, with year-to-date gains of 1.3% for the S&P 500 hiding a very persistent sideways move that looks to be resolving into an ascending wedge (chart 1). While this is classically a bearish formation, we are less certain that it must resolve to the downside. However, do expect a relatively large move in either direction when the wedge does break, with a break of the 200-DMA entirely possible should the bears take control."
Speaking to the rising wedge chart formation, Stockcharts.com writes:
"The rising wedge can be one of the most difficult chart patterns to accurately recognize and trade. While it is a consolidation formation, the loss of upside momentum on each successive high gives the pattern its bearish bias. However, the series of higher highs, and higher lows, keeps the trend inherently bullish. The final break of support indicates that the forces of supply have finally won out and lower prices are likely. There are no measuring techniques to estimate the decline – other aspects of technical analysis should be employed to forecast price targets."
While I continue to think there will be a decisive breakout to the upside, participants should continue to wait for that event to occur before becoming too aggressive on the long side. One place where I have been pretty aggressive is crude oil, having stated months ago, "I think crude oil has bottomed." At the time I mentioned that Columbia Management's David King, portfolio manager for a number of funds, told me, "You are getting a once in a lifetime opportunity to buy the 'busted debt' of some of these small energy companies at fifty cents on the dollar, and if said debt is money good, you are going to get equity like returns." In lieu of buying the debt I also mentioned you could buy one of his funds. Obviously crude oil prices are up substantially since that "bottoming call," which has left the largest S&P energy stocks all overbought by my work. Accordingly, I would currently tread softly in the energy space. As a sidebar, I did see that U.S. crude oil output FELL in March for the first time since January.
With the energy space overbought, I have to put together my potential "shopping list" using other strategies. One such strategy is to look at favorably rated stocks from our fundamental research analysts that also screen positively on select algorithms and are near their 52-week lows. That hopefully takes some of the downside price risk out of the equation. A few names fitting these criteria include: GATX (GMT/$55.42/Outperform), Johnson & Johnson (JNJ/$100.13/Outperform), Kansas City Southern (KSU/$103.70/Strong Buy), and Praxair (PX/$122.75/Strong Buy). Another strategy is to look at the D-J Industrials stocks that are oversold. While there are 11 of the 30 Dow components that are near-term oversold, only two of those have a rating from our analysts. They are: UnitedHealth (UNH/$113.20/Strong Buy) and Walmart (WMT/$78.60/ Outperform).
Finally, and since it is earnings season where companies beating their respective estimates fell by 4 points week-over-week to 62.5% from 66.5%, it is still worth considering "triple plays" (companies beating earnings and revenue estimates and guiding forward earnings estimates higher). In addition to the "triple plays" mentioned in last Monday's report are these from last week's earnings reports: BioMed Realty (BMR/$20.65/Outperform) and GoPro (GPRO/$49.98/Outperform). I suggest making your potential "buy lists" accordingly.
The call for this week: On Thursday the S&P 500 (SPX/2108.29) closed below the 2090 – 2100 zone that I had thought would contain the downside. In Friday's Morning Tack I wrote, "As for the here and now, I think yesterday (last Thursday) was a false breakdown." There is a full charge of internal energy in the equity markets and if they can finally achieve a decisive upside breakout above 2120, there should be a rally that will surprise everyone.
---
Additional information is available on request. This document may not be reprinted without permission.
Raymond James & Associates may make a market in stocks mentioned in this report and may have managed/co-managed a public/follow-on offering of these shares or otherwise provided investment banking services to companies mentioned in this report in the past three years.
RJ&A or its officers, employees, or affiliates may 1) currently own shares, options, rights or warrants and/or 2) execute transactions in the securities mentioned in this report that may or may not be consistent with this report's conclusions.
The opinions offered by Mr. Saut should be considered a part of your overall decision-making process. For more information about this report – to discuss how this outlook may affect your personal situation and/or to learn how this insight may be incorporated into your investment strategy – please contact your Raymond James Financial Advisor.
International securities involve additional risks such as currency fluctuations, differing financial accounting standards, and possible political and economic instability. These risks are greater in emerging markets.
Investors should consider the investment objectives, risks, and charges and expenses of mutual funds carefully before investing. The prospectus contains this and other information about mutual funds. The prospectus is available from your financial advisor and should be read carefully before investing.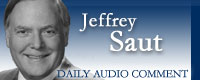 Jeff Saut's Daily Audio Comment is recorded every weekday, except Wednesday, at 9 a.m. ET. It is made available to the public on this Web page at approximately 1 p.m. ET.
Andrew Adams, Research Associate to Chief Investment Strategist Jeff Saut assists with the Daily Audio Comment, as well.